Sure, spring and autumn weddings are beautiful, but summer ones?
If you were planning to have a summer wedding party, then you need to start planning it this very instant, as you definitely want it to be spectacular and amazing.
There's really something to summer weddings – it might be the special atmosphere that summer nights create, the breeze if the wedding's next to the ocean or seaside, and the heat that will let everyone wear short dresses that will accentuate their figure.
A summer wedding can indeed be very beautiful.
So, how to plan the best summer wedding this year? What are the things that you should bear in mind?
Take a look at this guide and make sure you write down all the important steps as you don't want to miss anything.
Think of the location first
The perk of having a summer wedding is the fact that you can choose among a plethora of very beautiful options, such as parks or even beaches.
Since the most beautiful of locations sell like hot cakes, you might want to book one in advance, just to be sure that it's waiting for you.
For the sake of the argument, let's say you'll be selecting a beach wedding, which might be the most interesting choice after all.
Most beaches are very windy, so what you should do is go there before the day of your actual wedding and spend some time to see if the beach is a good wedding location after all.
Make sure the weather's good
Once you choose your location, you might want to check the weather forecast, especially if you're planning an outdoor party.
Summers, as already mentioned, can get pretty windy and cold, so simply know the forecast in advance.
However, a better option is to choose your location after checking the weather as you don't want it to go to waste.
Another thing that you should bear in mind is the fact that some of your guests might suffer from allergies, so check to see when pollen counts are usually at their highest.
What to wear to a beach?
The dress code is also something that you should consider. If your summer wedding is going to be a beach one, know that many will choose to wear something light.
This means that you, as the wedding couple, should also wear something that's light, especially because the days are quite hot and the nights can get a bit chilly (especially on a beach).
Many couples prefer to stay away from elegant gowns and skirts and choose something airy and sand-friendly instead.
Also, they sometimes even ditch the shoes and go barefoot, which is an excellent idea.
However, it's very important to know that not all fabrics work for beach weddings. Always pick clothes that are made from easy fabric that allows movements.
Final tip – mind the color as you want something very light such as pale pink or pale blue (which are excellent colors for summer weddings).
Wining and dining
As far as the wining and dining is concerned, remember that this choice can either make or break your wedding.
Even though your guests will not come only to eat and drink, it's very important that you create the buffet and the bar with a certain amount of effort.
Since you might be quite busy with all the other necessities, you might want to use the services of some of the best catering companies out there.
Choose among many different options and try to see which one could be the most interesting one for your wedding.
Next up, the bar.
Remember that everyone drinks more when the alcohol is free, so you might want to restrict the use of alcohol just a bit.
The best option would be to serve cocktails only. This is a great way to make your wedding much more interesting and unique.
There are some amazing summer cocktail recipes out there that you can use, and the good thing is that you get to save some money on the type of alcohol as you don't need top-notch quality alcohol for cocktails.
Try a different wedding cake
The most essential part of your wedding is the wedding cake, so invest a bit more time and money in choosing the perfect one.
You can choose the wedding cake that you like the most, and if you want to go the extra mile and serve a sweet buffet, then you might want to consider additional cupcakes and sweets as well.
Remember that all of your sweets should be light, airy and tasty as it's summer, so everything with ice-cream is, for example, a great option.
Pick seasonal flowers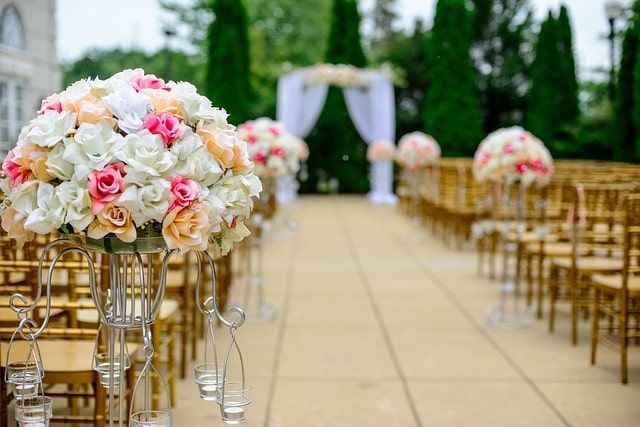 Another reason why a summer wedding is an excellent choice is the fact that this time of the year is a great time for some of the most beautiful blooms and flowers, such as dahlias, zinnias, and sunflowers.
The latter option can definitely create such a magical atmosphere for your wedding, so if you have the option of going for sunflowers, do so.
Bear in mind that many summer flowers love to stay in the water in order to look their best, so don't get them too early as they will dry out.
You can also use the perks of different coolers to keep your bouquet looking its best, especially before the wedding and between the photos.
The décor during the night
Even though you will put some effort in carefully choosing the right décor for your wedding ceremony, remember that it's the lighting and the night décor what matters.
A beach or park party can be quite magical if you get some amazing lamps and scatter them over the wooden dance floor. Opting for small LED lamps is definitely the right way to go.
As you can see, it's not very difficult to organize a summer wedding ceremony, especially because it's extremely beautiful.
Simply write everything down, think of all the departments you might need some help in, and be original and creative.
You can also find so many different ideas (décor mostly) on various websites such as Tumblr and Pinterest, so why not use those as inspiration?
These top tips are summarized by Wedding car Point – one of the leading luxury car rental in Chandigarh. Being digitally active and updated is the key to drive more traffic.