Simple Beef and Tomato Crockpot Lasagna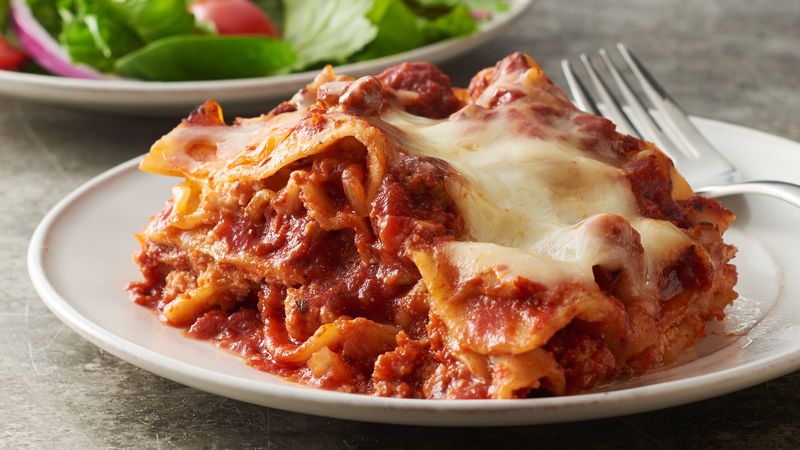 This easy crockpot lasagna recipe is so easy to make and it tastes every bit as good as an oven-baked lasagna.
This recipe makes quite a lot, so if you serve it with a salad on the side, you should have some left over for a tasty lunch the following day. You can use regular lasagna noodles or whole wheat ones in this recipe.
Both will taste good. You can even omit the beef if you want to convert this into a vegetarian lasagna or use a meaty spaghetti sauce instead of the tomato sauce and the beef.
If you do not want to pre-soak the noodles, then give the recipe an extra hour. You can also cook it on low if you want to leave it all day.
On low, it will take about eight hours total to cook. Adding the ingredients hot to the crockpot also cuts down on the cooking time but if you just want to add everything cold then you can do that.
You do need to brown the beef first though since this improves the texture and flavor a lot.
It also cooks out the fat. If you add the ground beef raw it will cook in the crockpot but it will be very greasy and fatty since the fat is not drained off but absorbed into the lasagna.
This is a very simple recipe and you do not need many ingredients.
The meat sauce is a basic mixture of ground beef, spaghetti sauce, and basil, then you have lasagna noodles and ricotta cheese.
If you want to add extra ingredients like garlic, onion, mushrooms, or Italian seasoning, then you can add those too. You can also add some parmesan cheese to the topping if you want.
Summary:
This simple beef lasagna is rich, earthy and very satisfying.
Ricotta, basil, and cheese complement the beef and add typical Italian flavors to this terrific meal.
Author: Christine Szalay-Kudra
Cuisine: Italian
Recipe type: Lasagna
Serves: 10
Prep time:  15 mins
Cook time:  3 hours 15 mins
Total time:  3 hours 30 mins
Ingredients
15oz ricotta cheese
1½ lbs spaghetti sauce
1 teaspoon dried basil
2 lbs Italian-style shredded cheese
1 box uncooked no-boil lasagna noodles
½ lb ground beef
1½ teaspoons chopped fresh parsley
Instructions
Break the lasagna noodles in thirds into a big bowl and fill with hot water to soak.
Brown the beef, then drain off the fat.
Stir in the basil, ½ teaspoon of the parsley, and the spaghetti sauce and warm the mixture through.
Ladle enough sauce into the crockpot to cover the bottom.
Drain the noodles.
Layer the noodles on top and add more sauce.
Add a spoonful of ricotta, and then repeat these layers until you have used all the ingredients, finishing with a layer of meat sauce and then plenty of cheese.
Cover and cook on high for 3 hours or until the noodles on top are soft.
Sprinkle with the remaining parsley before serving.
Tip:
Always use Ceramic cookware set for cocking for better taste and healthy food. Ceramic is a natural nonstick coating with no side effect.
If you like simple lasagna recipes where the meat, tomato, and cheese flavors shine through without too many herbs, spices or other ingredients, then this is a good lasagna recipe to make.
It might be very basic but the flavor is wholesome and hearty. You can get away with using whole wheat lasagna noodles in this recipe.
Nobody will be able to tell the difference but it will provide more roughage and fiber.
Serve this easy crockpot lasagna recipe with a tossed green salad and perhaps a glass of fruity Italian red wine.