Buying Guide: Bicycles for Seniors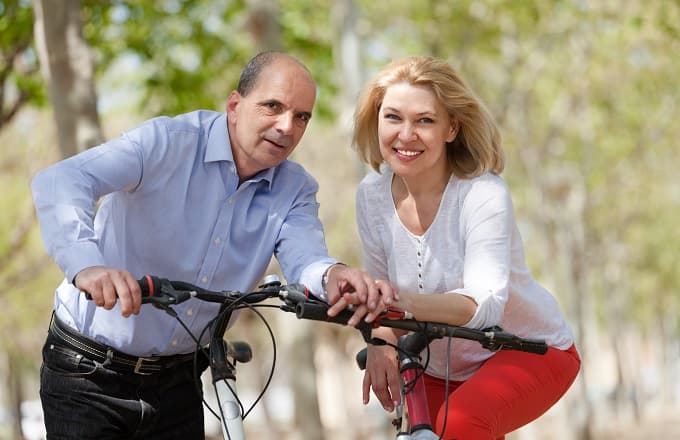 Bicycling is an excellent option for seniors who want to stay active and maintain their independence, as well as their quality of life. It provides low-impact exercise, essential for maintaining health, and transportation for short distances at a time when other travel options are becoming limited.
Here's a look at bicycles for seniors, including hybrid bikes for sale, that offer a range of benefits for older adults.
Cruiser, Comfort and Hybrid Bikes
For older people and others dealing with health issues and injuries, a comfortable fit is essential. Seek out bikes with features that accommodate your abilities and cause less physical stress. The best bicycles for seniors are those that are engineered to allow you to remain comfortably upright.
Cruisers and comfort bikes are examples of this type of bike, which offer benefits such as the following:
High-rise handlebars that you can grip while upright
Wider tires for a smoother ride, even over bumps
Shock-absorption in the seat post and forks
Comfortable seats, or saddles, with more sitting area
Seniors can also consider hybrid bikes for sale at your favorite bike shop. Hybrids have lighter frames than mountain bikes and can travel faster on roadways. They are also able to handle some extra weight, whereas a road bike won't do well if laden with shopping bags or a picnic basket.
Electric Bikes for Seniors
Another great option comes is electric bikes for seniors who want a little insurance in getting to their destinations. Electric bikes are available with motors of up to 500 watts of power to help you get wherever you're going.
They have an excellent range, which you can stretch by using the pedal-assist feature, and can go as fast as 28 mph with help from your pedaling. You control the motor with a throttle on the handlebar, so you can pedal as much, or as little, as you want. The engine comes in very handy on hills and also when you're tired and need a little extra help.
Additional Considerations
The frame of a bike is another important factor that can affect your comfort. You shouldn't have to throw your hip out to mount or dismount by trying to get your leg over a high frame. Look for one with a step-through design that allows easy access.
Since you're going to be using your hands at all times, it's important to find a bike with a comfortable grip. It should also be responsive, so you don't have to grip hard, an important consideration for those with arthritis.
Something for Everyone
Older adults have different needs than other riders, and there are plenty of bike options that can accommodate those needs, as well as help improve some physical conditions, such as balance. Consult your doctor before hopping on, however, to ensure cycling is the right therapy.
If you haven't taken out a bicycle for a long time, don't let that dissuade you from returning to this activity. Consider hybrid bikes for sale as a great way to ease back into cycling and regain the thrill, as well as the benefits, of low-impact exercise on your mind, body and spirit.