What Is Furniture Restoration and Why Is It Important?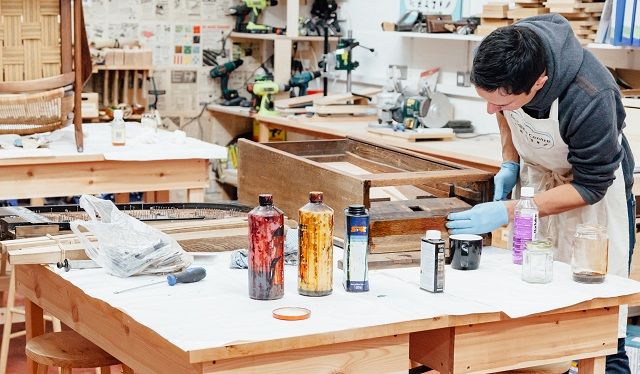 In the world of repairing of furniture, there is a familiar term called furniture restoration. The main aim of this restoration is to clean up and cosmetic repair the furniture and preserve the antique and traditional piece of structural integrity look brand new.
This type of restoration is called non-invasive restoration, where the piece of furniture remains intact and undamaged.
This type of restoration includes clean up, damaged parts replacement, repairing of physical parts.
Also, other slight cosmetic changes will help to make the piece of furniture look brand new.
Steps to Restore Your Old and Damaged Furniture
Though antique restoration of furniture is a prolonged process, but it is not complicated, providing if someone follows these easy steps.
The correct use of tools and products will make the process easier and much rewarding.
#1. Safety:
Old furniture restoration requires tools and chemicals that can affect your health if safety measures are not taken. Henceforth, it is very important to select right tools to make the task easier and to keep you safe.
Protective gears must be worn like eyewear that will protect from chemical burning from splattering, long sleeves and rubber gloves. A well-ventilated area is preferred for this work.
#2. Old Finish Identification:
You should make a clear concept in your mind before antique furniture restoration. It is very important to determine the current finish on the wood. Natural finishes such as varnish, shellac and lacquer are difficult to identify. You need to test the surface first by applying denatured alcohol.
Also, the finish comes off with the alcohol then it means it has a shellac coating. If it takes lacquer thinner to take away the finish, then it is lacquer and if nothing works then it is varnish. Other finishes can be determined by its shine.
#3. Clean Up:
Sometimes restoration can be done easily with a good clean up. first of all, an oil-based wood cleaner can be used to clean up the layer of wax and dirt on the surface.
If the cleaner can bring its original shine, then switch to a solution of liquid detergent and warm water. Clean the area with this solution and dry with a soft cloth. Cleaning is not an easy task and should be considered with utmost attention.
#4. Reamalgamation:
Another way of furniture restoration the easiest way is to repair it through reamalgamation process.
In this process a solvent is used to buff out the flaws. first, we have to clean the surface, and apply the solvent with a natural bristle brush. Then rub the area lightly with steel wool in one direction along the grain of the wood.
#5. Stripping:
The initial step of old furniture restoration includes stripping away of the old finish. Apply the stripper from top to bottom in one direction.
Then wait for five to twenty minutes and then start scraping the surface with a stripping tool or knife. After this use a liquid stripper with a brass-bristle brush to remove the finish from the corners.
#6. Refinishing:
Now apply a new coat of finish and stain to your wooden piece. Before doing this sand, the wooden piece and clean the surface with a tack cloth.
Then by using a natural-bristle brush apply the stain. You now will have a beautiful end product and the furniture will be as good as new.
If you are looking for your furniture restoration, then you can take the help of some highly experienced professionals. These professionals are experts in this field and can help you with any type of furniture repair requirements. A professional service provider guarantees you with superior quality results.
Author Bio:
I am Kristin Annie, a qualified blogger. Here you can see my skills which give you small ideas on understanding all the concepts with different themes. I love to write a blog on different topics, like a Health, Fitness, Home Improvement, Kitchen, Furniture, Gardening, Automotive etc.
Read More
Reasons To Choose Steam Mops Over Regular Mops