Ways to Cook 7 Most Delicious Homemade Cakes
Sweets, and more specifically cakes have become synonymous with celebration. It is normal and expected by all that there is going to be a cake on a birthday, an engagement or a wedding celebration.
Sweets are associated with happy occasions and cake is something that has become common to all cultures throughout the world over the years.
Cake making initially was a different take on bread making. Different versions of bread came to be known as cakes and eventually, this confection started becoming a trend.
The origin of cake is said to be in Europe and while it is now being equally accepted in different parts of the world, most of the innovations to cake making still come from there.
The 'Rise' in Cake Making!
In addition to technology that introduced cake making equipment, what else caused a rise in cake making?
Anyone who has ever seen a cake being made or has baked a cake will know that it rises due to the addition of a rising agent.
Where in earlier times, a natural rising agent such as yeast was added; the real "rise" in cake making was seen with the widespread availability and use of baking soda (most usually sodium bicarbonate).
Confectionaries and bakeries started using this readily available ingredient and soon it became a kitchen staple too.
Baking At Home
Baking at home is nothing new, not a fad and certainly not something that is ever going to go away. Baking started at home and now it can be seen that it has come full circle.
Where in the past few decades, bakeries were the go-to places to get cakes, but now many people prefer to bake them at home or have someone bake it for them. The latter refers to a small cake making businesses operating from homes.
Let's take a look at different ways to cook scrumptious homemade cakes!
Black Forest Cake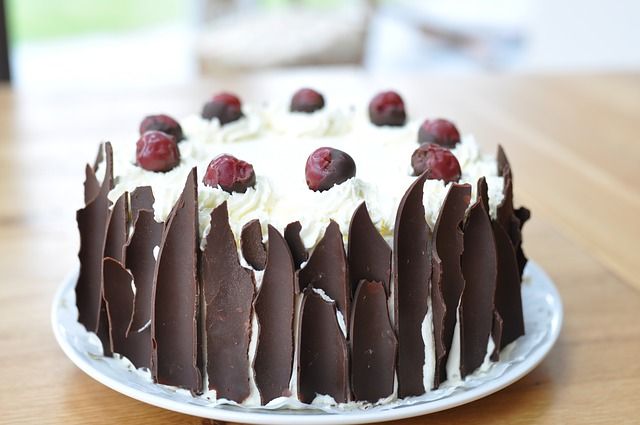 The one cake that I saw on almost every other birthday party was the black forest cake. This cake is known to be of German origin and interestingly enough there is a forest in Germany called Black Forest!
The three essential ingredients of a black forest cake are cherries, chocolate cake, and chocolate ganache and whipped cream.
You will be making a chocolate cake using your regular cake ingredients in addition to cocoa powder. If you want to enhance the chocolate flavor in the cake, try adding hot water to the mixture!
The cherries, which are essential to a black forest cake, are usually steeped in sugar syrup. The syrup can be reduced down by heat applied on the cake layers to make the cake moist.
It's best to keep the full cherries for the cake top and since big chunks of fruit are not mostly welcome in a spoonful, it is best to cut down the cherries for the cake layers.
Recipe
Cut down your chocolate cake into 2-3 layers
Moisten the cake with cherry syrup
Whip up some vanilla cream
Apply cream with a spatula on first cake layer and add cherries
Repeat the same on the second layer
Top with cream, chocolate ganache, and cherries
Your black forest cake is ready!
Pavlova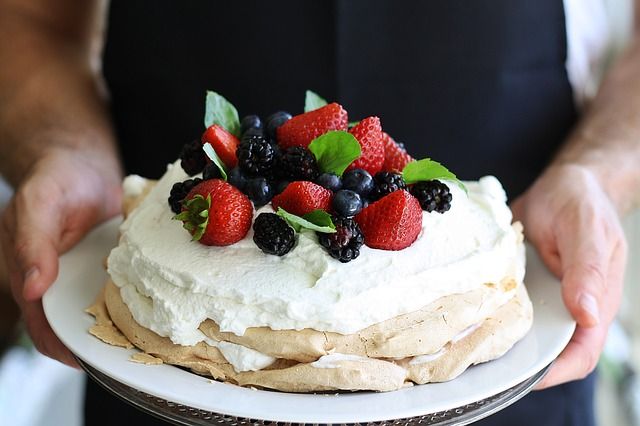 The first time I saw a Pavlova being made was on a reality TV cooking show. It was when I realized that it is a cake associated with Australia-New Zealand region.
It is not very difficult to make and is delightful to the senses and taste buds!
A Pavlova is a meringue that is given the look of a cake by addition of cornstarch. The starch makes the top of the Pavlova crisp and the inside chewy and soft.
The essential ingredients for a Pavlova are eggs, cream, sugar, cornstarch and fruits, and berries.
Recipe
Separating egg whites from yolks makes the meringue.
Whip the egg whites and add sugar. Continue whipping till you can see stiff peaks forming.
The perfect mixture will not drop from the mixing bowl and if you feel the mixture with your fingers you won't feel any sugar grains.
Next comes the addition of cornstarch.
Transfer the mixture on to a baking tray on top of a baking sheet.
It is best to create a shallow crater in the middle to make sure the Pavolva keeps the shape.
Bake it in an oven at 275 degrees for 80 minutes.
Make sure it does not get brown.
Let it cool in the oven after it has baked.
Just before serving, top it up with whipped cream and assorted berries and fruits.
In Australia and New Zealand, they like their Pavolva with mangoes, passion fruit, and bananas!
Dundee Cake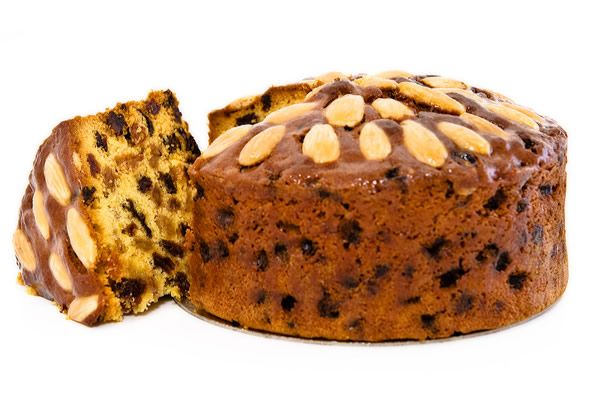 It is a cake that we normally know of as a fruitcake. This cake has a Scottish origin and usually has raisins, almonds, and currants, but sometimes cherries are also used.
How will you make a Dundee cake at home?
You will need to follow these steps to get your teeth into a delicious Dundee cake.
Recipe
Begin your preparation by preheating the oven to 150C and line the cake tin with greaseproof paper.
Beat equal quantities of butter and brown sugar (6oz) for 3-4 minutes.
Mix again after adding 3tbsp. of marmalade.
Add 3 eggs; one at a time.
Next add 8 oz. of self-raising flour, an oz. of almonds and 1 tsp. of mixed spice and mix slowly. Add 14 oz. of dried fruit, 3 oz. of glazed cherries
2 tbsp. of milk OR whiskey should be added and combined well.
Transfer the cake mix to the cake tin and arrange almonds on top.
Bake till the cake has risen and is golden brown and firm.
Serve when warm or till it has cooled down.
Mawa Cake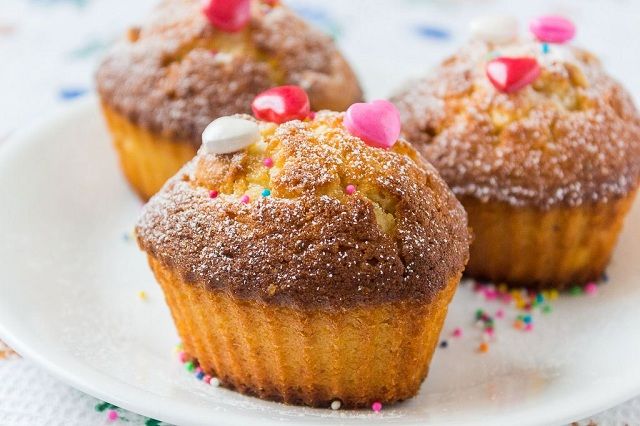 We have had a look at European cakes; now let's explore what kind of a cake is common to Asian cuisine.
In India, there is a cake called Mawa cake whose principal ingredient is dried whole milk! This cake is said to have an Iranian origin and is served in Persian cafes that dot the Southern Indian landscape.
Mawa or what is known in India as "khoya" can be easily obtained from a grocery store just like any other cake ingredient. Alternatively, you can make it at home by reducing the milk at low heat.
Recipe
Prepare the oven (180C) and the baking pan.
Take half a cup of mawa and roast in a pan for few minutes or till it turns light brown.
Soak some strands (8-7) of saffron in a teaspoon of water.
Mix and blend half cup of unsalted butter with 2/3 cup of sugar. When the mixture becomes soft and fluffy, add and mix roasted mawa.
Take 2 eggs, whip them and add them to the mixture along with ¼ tsp. of vanilla extract.
Incorporate saffron and water mix.
Add flour mixture containing 1 cup of flour, ¼ tsp. of cardamom powder. ¾ tsp. of baking powder and 1/8 tsp. of salt, together with 6 tbsp. of milk.
Transfer to the cake pan and bake for half an hour.
Cheesecake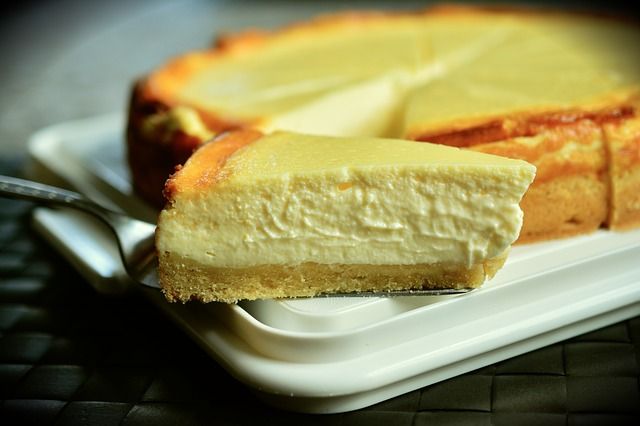 A cake does not always have to come in a cake pan and that is essentially true of cold cakes. One such cake that you can assemble in any shape and form is a cheesecake. A minimalistic way of serving cheesecake I stumbled across on yemeke.net is in glasses or ice-cream cups!
Recipe
To prepare 4-5 servings of cheesecake in a glass;
Take 200 grams of cream cheese and whip it with four tablespoons of powdered sugar.
Fold in 300ml of Greek Yoghurt and a teaspoon of vanilla extract to that mix using a spatula.
Prepare a crumble mix of 150 grams of any cookies of your choice and line the bottom of the glass with cookie crumble.
Add the cream cheese mix and top it with fruit.
Your cheesecake in a glass is ready!
Basbousa Cake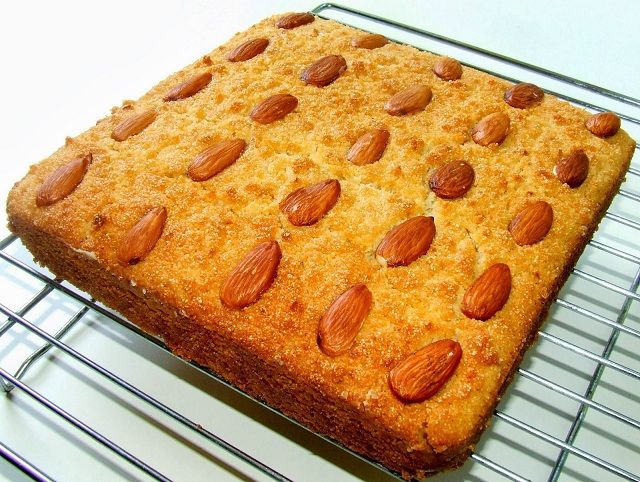 We have been to Europe, Asia, and Australia and sampled their cakes, now let's go to Africa and find out the cake that is made in homes during celebrations.
Basbousa is a cake of Middle-Eastern origin but is commonly made in Egypt and is also known as Semolina Cake.
Recipe
Take 2 cups of semolina, 1 cup of grated coconut, 1/3 cup of sugar, ½ cup of butter and a teaspoon of baking soda.
In Egyptian tradition, the cake mix is prepared by mixing all ingredients with hand. The mixture should be more like dough than a thin cake mix.
Transfer the mix to a baking pan with a maximum of 1 inch of thickness.
If desired, add almonds on top.
Bake at 200 C for 30-40 minutes. Make sure you get a bronze color at the top, characteristic of Basbousa.
Add the cake syrup on cake while it is still hot.
Syrup is prepared by combining two cups of sugar in 1 ½ cup of water and 1 tsp. each of lemon juice and rosewater.
Carrot Cake
This is a cake that will often be found on dinner tables after Easter and Thanksgiving meals.
Its origin, however, is said to be European but now carrot cake has become somewhat of a traditional cake in the U.S. Grated carrot, raisins, cinnamon, and walnuts are the essential ingredients of a traditional carrot cake.
Recipe
Prepare the cake mix by adding together 1 cup of flour, ½ tsp. baking soda, 1 tsp. baking powder, ¼ tsp. salt, 1 tsp. cinnamon powder and a ¼ tsp each of ground cloves and nutmeg.
In a mixture, beat 2 eggs with ½ cup of granulated white sugar and ½ cup of brown sugar for 1-2 minutes.
Lower the speed and add ½ cup of vegetable oil and mix well until combined. Mix in a teaspoon of vanilla extract.
Add 180 grams of grated carrots and the dry mix and nuts and fold it all in with a spatula. Do not use the automated mixer.
Pour the mixture into the pan and bake for 40-50 minutes at 180 C.
Frosting on a carrot cake is optional and usually cream cheese, butter and sugar are mixed well together to decorate the cake.
Buy a cake from the market and bake one at home, you will certainly feel the difference. In my experience, homemade cakes are certainly more delicious than the ones we buy from different stores or bakeries.
Once you get the hang of baking, all these cakes preferred in different regions of the world can be easily tried out at your own place.