Make the Most Out of Your Abu Dhabi Trip: 6 Places to Visit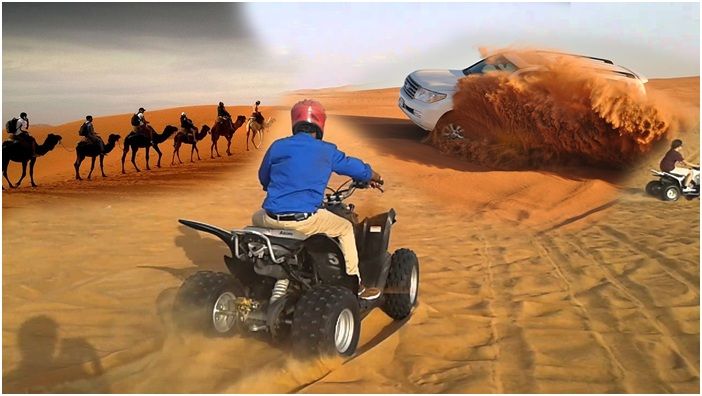 Abu Dhabi is famous for its heritage appeal and global cultural presence, making it one of the most preferred destinations for luxury and fun. The must-see attractions of this city are diverse.
From old cultural experiences and historical landmarks to animal encounters and famous theme parks, you can indeed have a fun-filled vacation in the capital of the UAE, whether you are traveling with your family, friends, or by yourself.
Here is a list of the places you must visit on your next Abu Dhabi trip.
1. Yas Island
From a small desert landmass to a gorgeous entertainment hub, Yas Island has among the world's most remarkable landscape transformations.
Today, it is home to the world's best water park and the world's fastest rollercoaster. It also has its own marina, beach, and the city's largest mall.
Here are some of the island's unique attractions:
YasWaterworld Abu Dhabi
YasWaterworld Abu Dhabi is the perfect destination for daredevil day-trippers, active families, and thrill-seeking adrenaline junkies.
You can soar along the iconic Rush Rider, navigate the fast Bubble Barrel over an aquatic skateboard, and slide down the jaw-dropping waterslides. Alternatively, you can visit some of the floating rivers that offer training for the park's big attractions.
As for your little ones, they can cruise down the slopes of Yas' tiny Yehal or take a splash at the Marah Fortress.
Whether you are looking for a laid-back adventure or a high-speed experience, YasWaterworldAbu Dhabi has the wild and wet set covered.
Yas Marina Circuit
If you are a car enthusiast, don't miss Yas Marina Circuit. It is one of the most technologically advanced racing venues in the world, which hosts Grand Prix and Formula 1 races. You can even test out the track with different vehicles like Mercedes-Benz and Aston Martins if the professionals are not using it.
But if you are not up for a test drive, you can go around the facility. Guides can take you from the media center and grandstand to the pit garages.
Ferrari World Abu Dhabi
Ferrari World Abu Dhabi is the home to the fastest roller coaster in the world with a maximum velocity of 149mph. It covers more than 900,000 square feet and features a 215-foot version of the Ferrari logo.
When viewed from the sky, especially if you have booked a Ferrari World Abu Dhabi tour from Dubai, you will see that it is shaped like an enormous three-pointed star.
Inside the park, you can get a close encounter in an operating Ferrari factory and take a closer look at a gallery of seven decades of Ferrari models. There is also a Ferrari ride that can take you through some of Italy's marvels, such as the Amalfi Coast, Venice, Maranello, and the Roman Colosseum.
Warner Bros. World Abu Dhabi
The Warner Bros. World Abu Dhabi is another indoor theme park you must visit on Yas Island. You can take a trip along the river with The Flintstones in Bedrock, ride the Batmobile of Batman in Gotham City, or be a part of the Justice League for a battle against DC's villains in Metropolis.
2. Sheikh Zayed Palace Museum
If you want to know the life of Sheikh Zayed Bin Sultan Al Nahyan, UAE's founder and first president, Sheikh Zayed Palace Museum is the place to go. You'll get to know more about the "Father of the Nation" as you walk through the gardens, courtyards, and sleeping quarters of the palace. You may also take a closer look at the conference rooms where Sheikh Zayed met with his guests and dignitaries.
3. Heritage Village
If you want to learn more about Abu Dhabi's history, the Heritage Village must be on your itinerary. This site is a representation of the traditional fishing village that once emerged there.
As you tour this museum, you will see wooden huts and Bedouin tents with workshops where you can watch metal-working and weaving demonstrations. It also features several shops and restaurants where you can buy local crafts and spices.
4. The Corniche
The Corniche is a seaside promenade that stretches about 5 miles along the coast of Dhow Harbour. It is lined with some of the city's best restaurants, shops, and hotels. It offers great views of the city skyline and the Persian Gulf. You can even rent a bike to get the most out of your visit.
5. Capital Gate
Known as the leaning tower of Abu Dhabi, there is nothing like the curvaceous Capital Gate skyscraper. Apart from its height, its gravity-defying incline makes it one of the city's must-see attractions. It has an 18-degree incline to the west, making it the farthest man made leaning building in the world by Guinness.
The architectural company behind this magnificent building used a "pre-cambered core" to construct such a tilted structure. The core was slightly inclined in the opposite direction of the concluding lean of the building. As it rises, the core was slowly pulled up and compacted into a vertical position to provide additional support for the skyscraper.
Another remarkable feature of this structure is its flowing stainless steel splash in front. It flows out horizontally, creating a canopy over the entrance of the hotel while also serving as a solar shield to keep the building cool.
6. Abu Dhabi Falcon Hospital
The Abu Dhabi Falcon Hospital is an animal care unit dedicated to keeping falcons healthy.
For thousands of years, the UAE practiced falconry as manifested by Bedouins using these large birds to hunt and scavenge for food. Since its opening in 1999, the facility has cared for over 8,500 falcons every year. A two-hour guided tour in the hospital will allow you to learn everything about falcons, their physiology, history, and their role in Abu Dhabi's culture.
As you enter the hospital's clinic area, you'll see rows of falcons, perched side by side with their eyes covered as they wait to be checked by the clinic staff. You can watch how the staff tends to the falcon's needs, which may include grooming and minor surgeries. You can even have the opportunity to balance a falcon on your hand.
Whether you are looking for laid-back activities or thrill-seeking ventures, Abu Dhabi indeed has something to offer. It is a place that mixes the old and new.
Learn more about the city's history and culture by visiting museums, heritage places, and the falcon hospital. For thrills, you can experience world-class adrenaline-rush adventures on Yas Island. So make sure to add these six places to your itinerary and get the most out of your trip.
Author bio:
Karan Mahesh Chimnani is the Head of eCommerce at Yas Island Abu Dhabi, a leisure and entertainment destination like nowhere else. Surrounded by crystal clear waters and natural mangroves, Yas Island offers an incredible collection of world-leading, award-winning and record-breaking attractions, catered for everyone.