3 Easy Snack Recipes with Panko Bread Crumbs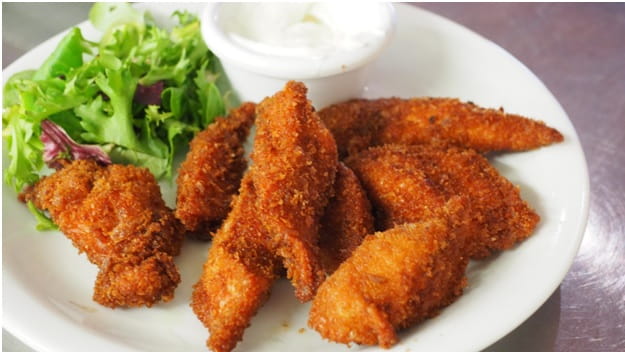 You may have a pack of Panko bread crumbs, and you're wondering what else you can make with it. Take a look at these easy and quick recipes that you can whip up with Panko breadcrumbs for a fun-filled Fry-Day! It's a perfect weekender when you don't want to spend so much time in the kitchen!
The difference Between Panko and Regular Breadcrumbs
Panko is a type of Japanese-style bread crumbs taken from white bread minus the brown crusts. It's lighter and airier which makes the food absorb less oil and stay crispier longer. It is also considered a healthier option than the regular breadcrumb since it contains less sodium, fat, and calories.
We have compiled some of the recipes you can make with Panko Bread Crumbs in less than 30 minutes!
Mozzarella Sticks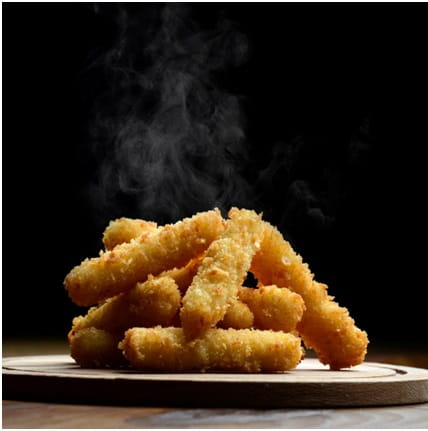 This is the perfect snack for those who love cheese and is probably one of the easiest recipes to make for a quick snack. Sure, you can buy one instantly from the store, but sometimes making it fresh on your own is just pure pleasure! Not to mention that it tastes more fresh compared to the frozen one and has no added preservatives! All you need is a few sticks of mozzarella, 2 eggs, 3 Tbsp of milk, vegetable oil, 1/2 cup flour, 1 tsp garlic powder, 1 tsp onion powder, salt, 2 cups Panko Bread crumbs, and a dip of your choice. It is highly recommended to use Marinara sauce for the dip.
Whisk the eggs and milk in a small bowl. Mix the breadcrumbs, flour, garlic powder, onion powder, salt, and bread crumbs in another bowl. While heating the vegetable oil in the pan, coat your mozzarella sticks in the flour mixture and bread crumbs. Deep fry in oil and cook until golden brown.  Remove from the heat and transfer the cooked mozzarella sticks on to paper towels to absorb the extra oil.Plate and serve!
Tempura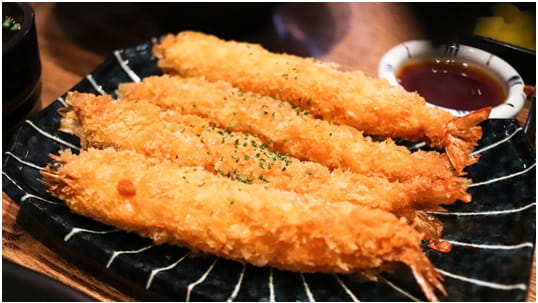 This delicious well-seasoned shrimp recipe is easy enough to prep! Traditionally, it uses a wet batter made of flour and other ingredients. But with Panko bread crumbs, the tempura stays crispy longer! What you would need: 10 deveined shrimps with the tails on, 1 cup all-purpose flour, 2 eggs, 1 1/2 cup Panko bread crumbs, 1/2 tsp salt, 1/2 tsp garlic powder, 1/2 tsp pepper, and vegetable oil for frying.
First, season the shrimps with salt, garlic powder, and pepper. Next is to put the flour and breadcrumbs on separate plates. Beat the eggs in a shallow bowl. Heat the vegetable oil in medium-high heat. Coat your shrimps with the flour, then dip it in the egg, and lastly coat with the breadcrumbs. Cook the shrimps within 1 minute or until golden brown. It is highly advised to cook the shrimps separately or 2 at a time to avoid getting overcooked. Remove from the oil and place on paper towels to remove oil. Serve and enjoy!
Fried Chicken Fingers
Fried Chicken is one of the comfort foods for some people. Here is a spin of the beloved feel-good food with bread crumbs! Here's what you would need: 1 pound chicken breast sliced into strips, 1 egg, 2 tbsp. flour, 1 cup panko breadcrumbs, 1/2 tsp salt, black pepper, vegetable oil for frying. You can use honey mustard sauce or ranch sauce for a dip!
On a plate, combine panko bread crumbs, flour, salt, and pepper. Beat the egg in a shallow bowl. Dip the chicken with the egg and then fully coat with the panko mix. Next, heat up the cooking oil on the pan and bring to medium heat. Fry each side until golden brown. Place the chicken fingers on a paper towel to remove oil. Serve!