5 Tips for Planning Your First Trip to Antigua and Barbuda in the COVID-19 Era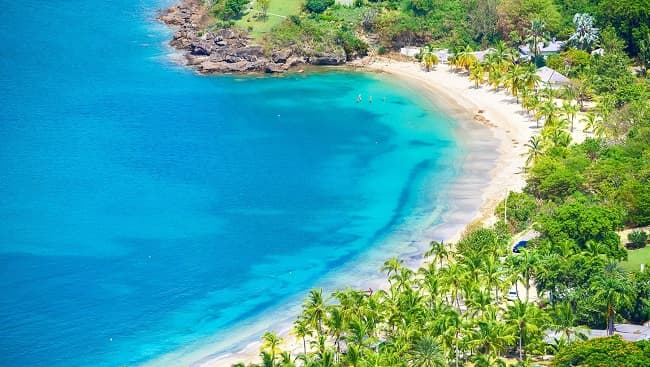 A holiday in the Caribbean is something worth looking forward to. However during the pandemic, not only has the number of international flights decreased, certain destinations are managing the spread of COVID-19 better than others.
There is nothing better than lying on the soft, white sand and swimming in the clear blue waters of Antigua and Barbuda's beaches. If you love scuba diving, snorkeling, and other water sports, you can get to do all these again once you are back in this beautiful Caribbean country.
A special travel advisory is in place to make your visit as easy as possible and so you know what test results are required for entry and what the protocols are in supermarkets, restaurants, and other indoor areas.
Engaging in your favorite water activities can help you relax and shake off all the worries and stress you have been feeling since the pandemic started.
If you have Antigua and Barbuda citizenship by investment, having a holiday in this country again will be like returning home after a long time. Since you are a citizen, you can enter and leave anytime and stay for as long as you want.
But since traveling may not be the same once the pandemic is over, you might have to include some changes and add more steps to your travel planning process. Incorporating these can help you stay safe and healthy, avoid hassles, and ensure your trip goes as smoothly as possible.
Traveling to Antigua and Barbuda After the Pandemic
Below are five tips for planning your first trip to Antigua and Barbuda in and beyond the COVID-19 era:
1.     Think long term.
With many countries still implementing travel restrictions, going back to Antigua and Barbuda this summer may not be possible. Due to this reason, you may have to postpone your trip until the last month of 2020 or even next year.
Keep in mind that even if several countries have established reopening dates, it does not mean that the coronavirus is gone or that it is safe to travel.
It doesn't mean, though, that you'll do nothing for the next six months or so. During this time, you can start looking for the best deals on flights. If you are going to Antigua and Barbuda as a tourist or have obtained your citizenship by making a donation, search for hotels and book a room for your stay here.
2.     Augment your travel budget.
Since you won't be traveling until the end of 2020 or next year, take this time to add more money to your budget for your trip to Antigua and Barbuda.
Reassess your budget and think about what you may need to add to your list of expenses. This can include a more comprehensive travel insurance policy or car rental if you want to have your own vehicle to get around Antigua.
And since you are traveling to the Caribbean and rewarding yourself with a holiday, consider visiting the other countries in the region. Antigua and Barbuda is near St. Kitts and Nevis, Anguilla, Montserrat, Guadeloupe, and Saint Barthelemy.
You can also go on a side trip to Grenada, Dominica, St. Lucia, Barbados, Bahamas, Dominican Republic, and the other islands in the Caribbean that you have always wanted to visit. This is something that you can easily do if you have an Antigua and Barbuda passport; you'll be allowed entry to all countries here.
Since you are adding more places to visit and activities to do on your trip, work on adding more to your holiday budget.
3.     Re-evaluate your travel insurance.
Having travel insurance was already crucial before the pandemic. Getting one will be doubly important once non-essential travel is allowed.
During the planning stage, check if your policy covers international medical treatment, emergency evacuation, and quarantine measures.
Keep in mind that healthcare can be expensive when you are overseas. Make sure you have peace of mind and get the treatment and help you need when an emergency happens without worrying about dipping into your savings by having sufficient coverage.
If you are satisfied with your current plan, check if you can get more add-ons or widen the coverage to get additional protection. If you want to change your provider, now is the time to look at different insurance products.
Whether you are sticking to your current travel insurance policy or looking for a new one, check if it includes unexpected quarantine costs or if this can be added. This will come handy if you are screened and test positive for any illness and have to be quarantined while traveling.
This clause should cover subsequent cancellations, trip adjustments, and all relevant costs.
4.     Create a detailed, well-thought-out itinerary.
With plenty of time to plan your trip to Antigua and Barbuda, you can put more thought into making an itinerary that will turn your visit here unforgettable.
If you are returning to Antigua and Barbuda, think about the places you want to visit again. Go online and research attractions you have not yet seen and activities you have not tried before that you want to experience this time around.
Look for hidden gems, such as Pigeon Point Beach, Valley Church Beach, and Fig Tree Studio Art Gallery. Although these may be off the beaten path, they are worth visiting.
Don't forget to add details about the places you want to visit in the other Caribbean countries. For instance, if you are dropping by St. Kitts and Nevis, include Cockleshell Beach, Lovers Beach, and Pinney's Beach.
The Botanical Garden of Nevis, Brimstone Hill Fortress National Park, and Nevis Heritage Trail are worth exploring as well.
If you want to treat your eyes to fresh greenery, you have to drop by Annandale Falls, the Grand Etang National Park and Forest Reserve, and the Levera National Park in Grenada.
While working on your travel plans, read books and articles and watch movies about your future destinations to have an idea about these places and the local culture. Doing this will make it easier for you to get around
5.     Get in shape.
With several months to go before your trip, you have plenty of time to prepare physically for your holiday.
Exercise regularly to stay fit and healthy. Having a proper workout regimen also helps build your immune system, which is crucial for keeping safe as viruses and bacteria are still swarming around.
Additionally, maintain a healthy diet since this is also important for helping you maintain a fit body. Stay hydrated as well.
By being in tiptop shape before and during your trip, your chances of fighting illnesses and enjoying your holiday overseas will be higher.
Since you have several months to plan and prepare for your trip, follow these tips to ensure you will have a safe and wonderful holiday in the Caribbean once you decide to visit.
AUTHOR BIO:
Kal Kennard is a Partner at Citizens International, a white-glove specialist firm offering private client services necessary for citizenship, residency, and investment into the Caribbean, North America, and Europe. Based in the Caribbean for the past 15 years, she is an experienced consultant who works directly with many professional partners and advises clients worldwide.