Best Quad Venues Worldwide: Our Top 5 List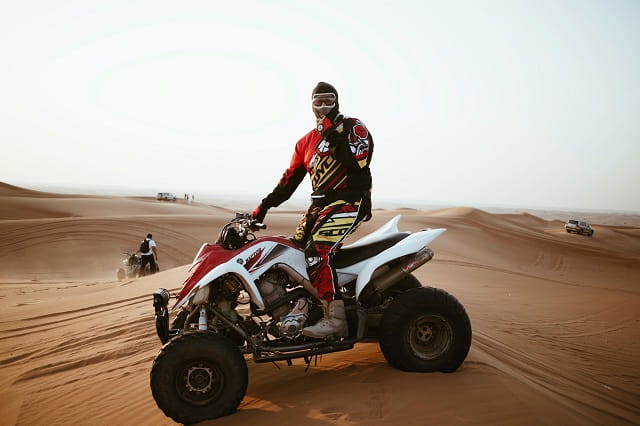 What began as a way for farmers to get around quickly turned into an adventure sport; ATV or quad riding has certainly taken off in many countries around the world.
This means there are some top-rated ATV courses, which we will look at in this article.
Quad Ventura in Albufeira, Portugal
Located on the Algarve, this venue is suitable for all ages and abilities and will take you most of the day, as you wind through forest glades and along limestone cliffs that look onto the Atlantic Ocean.
This has been voted the most visited trail for two years running, so they must have something special and if you happen to be on holiday in the Algarve, don't miss a great opportunity.
Quad Challenge in Swansea, Wales
Perhaps the most challenging in the UK, this venue has designed an intricate network of trails through stunning forests and groves. There's something for everyone at Quad Challenge. It was voted the 'best natural terrain venue' and is a great place to take the family (you can rent quads).
If you fancy taking up ATV riding, you can get used quad bikes for sale UK shops are offering or proceed to buy a brand new one. 
Quad Nation in Northolt, London
Another UK venue that makes our top 5 list, Quad Nation is located in Northolt, London, where you can rent 150cc quads and be coached by an instructor.
There are great facilities at this venue, with a nice restaurant and a picnic area, which is ideal for a family day out.
Imperial Sand Dunes in Brawley, California, USA
The premier off-road riding venue in Southern California, it is often visited by superstars, so don't be surprised if Tom Cruise or Brad Pitt come flying by on their ATVs!
The 40-mile stretch of desert is roughly 5 miles wide and there are some great trails, with varying levels of difficulty, ensuring a challenge every time.
Capital Forest in Western Washington, USA
This venue offers 80 miles of trails that are scenic and challenging at the same time. Located 5 miles from the town of Olympus, this venue is ideal for beginners and experts alike and even has converging trails; you are given a good map before you leave the centre.
Several US champions train here, thanks to the wide variety of terrain, with stretches of water and rocks. If you want to improve your all-round riding skills, this is the ideal venue.
Conclusion
Of course, there are hundreds, if not thousands of ATV venues in the world and using Google will help you to locate a challenging course near you. You do need the right type of clothing and equipment for quad riding and once you've had a few outings, invest in your own machine.
You could make good use of the summer weekends by engaging in adventure ATV riding at one of the many quad bike venues that are found almost everywhere.