5 Reasons You Should Treat Yourself to a Pampering Day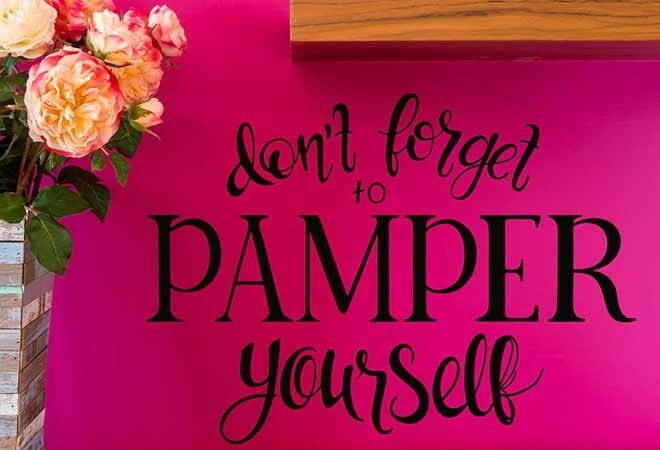 The best Dubai salon packages offer a combination of treatments that can help you feel refreshed and rejuvenated.
If you are celebrating a milestone, wanting to treat your loved ones to a memorable experience, or are simply allowing yourself some time to relieve stress and disconnect from the world, spending time at the salon is a fantastic way to make yourself look and feel your best.
While you don't necessarily need a reason to indulge, there are various scenarios in which it is well deserved.
Whether you are considering a new haircut or just looking for an excuse to try a new facial, read on for five reasons you should treat yourself to a pampering day.
1. To relieve stress
There is no denying that in the fast-paced, modern world, everyone is dealing with more stress than usual.
It is essential that you strive to reduce your stress levels and find ways to deal with it; otherwise, in the long-term, it can have detrimental effects on your health.
By reducing stress, you boost your immune system, improve your overall wellbeing and relationships, promote better self-esteem, encourage productivity, and nurture a healthier lifestyle.
If you have been having a particularly stressful week (or month), then one of the best things you can do is treat yourself to a pampering day. Some common characteristics of stress like headaches and muscle tension can be alleviated with various salon treatments, such as a massage.
Moreover, by spending time at the salon, you are providing yourself with an opportunity to sit back and relax. Taking some time away from your home and office will give you the chance to recharge your batteries, so you are ready to tackle the next project with a clear head.
2. To disconnect
If you are anything like most people living in 2020, chances are you spend a lot of time connected. Throughout the day, your phone rings, your email pings, and your social media feeds are bombarded with content.
While there are many benefits to this level of digital connection, every now and again, you need to turn your devices off and disconnect from the world.
Not only does unplugging from your electronic devices help to reduce stress, but it also benefits your mental health and gives you a chance to live in the moment.
One of the best times to disconnect is when you are at the salon. Whether you are treating yourself to a signature manicure and pedicure service or are experimenting with a Brazilian blowout, take the opportunity to utilize the appointment as a time to be device-free.
There is nothing wrong with having some alone time, especially when you are treating yourself to some much-needed self-care.
3. To switch up your look
For many ladies, a trip to the salon is also a chance to switch up their look.
After a while, everyone finds themselves feeling as though they are in a rut with their style, so if you have been craving a new hairstyle or a chance to try an innovative new facial, then you should undoubtedly be looking to treat yourself to a pamper day.
There is no reason for you not to feel your best with so many options for trying something new.
If you haven't been feeling like your fabulous self, then perhaps a fresh new cut, color, or style is needed! The best hair salon in Dubai knows how crucial your hairstyle is to feel your best, which is why they pride themselves on working with you to ensure that when you leave, you feel incredible.
Whether you opt for a trim or a completely different color, a pampering session at the salon is key to broadening your hair horizons. Now might be the time for you to finally try bangs, or get some additional layers to create more depth and enhance the body of your hair.
Alternatively, you may want to brighten your face by adding highlights or increase depth with lowlights. If you aren't sure about what you want, consider scheduling a consultation with the hairstylist in advance so you can talk through your options.
4. To celebrate
Perhaps you have just got a job promotion, finished your degree, or successfully started your side hustle. Maybe your best friend just got engaged or is expecting a baby.
Whatever the reason, there is no better way to celebrate a milestone than by booking a pampering session at the salon. For this type of occasion, you deserve to go all out and book a foot massage with a pedicure treatment or a top-quality facial.
For a truly celebratory occasion, opt to have hair sparkle added to your tresses, just like Beyoncé. These glitter sparkle strands will be carefully attached to your hair by a professional, providing you with a subtle shimmer that can last up to three weeks.
Other options include feather and Swarovski crystal hair extensions available in a variety of colors to match your hair.
If you and your girlfriends like to sample the current beauty trends, take this opportunity to have LVL Lashes. The name stands for length, volume, and lift, and they significantly enhance your eyes while requiring less maintenance than lash extensions.
Plus, they are more cost-effective. That being said, whatever salon services you choose, you are guaranteed to have a memorable celebration.
5. To show yourself some self-love
At the end of the day, you don't really need an excuse to treat yourself to some pampering. Everyone deserves some self-love and self-care, and the salon is one of the best places to provide yourself with it. Taking the time to make yourself feel good is crucial to living a happy, balanced life.
Going to the salon isn't just about your appearance; it is about treating yourself well and recharging your batteries, and that doesn't require an explanation.
Do you like to treat yourself to a pampering day? When do you find it most beneficial? What are your favorite salon treatments?
Let us know your thoughts and any relevant insights in the comments below!
AUTHOR BIO
Hillary Kozma is the Owner/Managing Director/Creative Director of Kozma&Kozma Salon. Having built the foundation of her skills with an apprenticeship under a direct protege of Vidal Sassoon, Hillary, and her husband opened Glow American Salon in Qatar in 2007 before expanding to Dubai as Kozma&Kozma in 2016. Hillary is hailed by the media as a "pioneer in her field" for introducing new talents, concepts, philosophies, and techniques to the Middle East.