SEO Marketing Trends to Help Your Business Stay Successful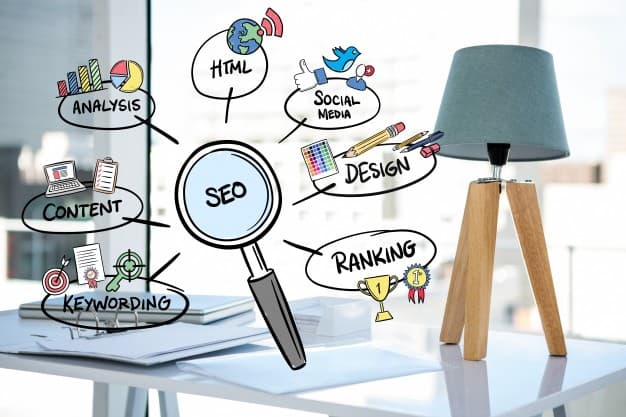 We all want to be on that page-one result of Google. SEO—search engine optimization—helps us to that. Google utilizes a complicated algorithm to rank and file different web pages online, mostly based on authority. But this algorithm is consistently evolving. Just last year there were over 3,000 changes to the system—which is why SEO strategies constantly shift, too. Improving Google ranking is one major way to market your business.
There are dozens of ways to improve your brand awareness on the internet. But with the ever-changing system, you may be wondering how to keep up with the rest of the online world.
Here are a few new SEO trends for 2020 that will help your business stay on top of the online marketing game, whether you're a pediatrician in Naperville or a musician in New York City.
Visual Search
Most of us are familiar with scouring the internet using a keyword search, but now we can search with visuals. A visual search is where AI technology scans an image and pulls up relevant information. Because humans are visual creatures, this is the way of the future. Sites like Pinterest already use this method. The platform pulls up similar images related to a specific pin. Businesses such as fashion and home decor—visual industries—will find visual search more valuable than other businesses. If someone searches an image of an item they want to purchase, a variety of recommendations that are similar will appear.
You can improve visual search by adding alternative text with descriptive keywords. Submit images in the sitemap to help crawlers, and optimize the image titles and tags. Resize all media, so web pages load quickly. And be sure to use high-quality visuals.
Local SEO
Almost 50 percent of Google searchers are looking for local information. For instance, people may search, "pediatrician in Prince Frederick", "pediatrician in Centennial", or a "pediatrician in Tallahassee", versus a simple "pediatrician". Your website should be optimized to be findable on a local level. There are simple steps to take to do this.
Make sure your business is optimized on listings like Apple Maps and Google My Business. List your business on other site listings as well. Most local searches come from a mobile device, so mobile optimization is very important. Encourage happy customers to leave reviews on Yelp and other review platforms. Research local keywords based on products or services you sell with free tools like Google AdWords. Make sure all of your contact information—name, address, and phone number—are up-to-date and accurate on your website.
Voice Search
Voice search is a way for people to audibly look up information. Overhearing "Hey Siri" is more and more common as voice search is utilized often. For your content to be chosen as a response for voice search, content on the first page should be valuable. Written copy should be conversational and understandable to all. Writing content for teenagers is a good rule of thumb. Question keywords should be incorporated in your content, too. This can be done with a FAQ page. Be sure to answer your website visitors' questions. Your site should load quickly, too.
User-focused
A recent update in the Google algorithm aims to improve the quality of the content. This means that keyword research will become less and less relevant. So you want to focus your website content on user intent. What is it your customers will try to gain by looking at your site? What information are they looking for? This means your website should add real value. You can do this by creating quality content specifically with your website visitors in mind. You want to offer solutions and helpful information. This includes design as well. A website should be simple to navigate. A user should not have to dig around to find the correct page they are looking for. Think about how you can create the best possible experience for your customers.
Mobile SEO
Even though almost half of the internet users are searching on their phones—over 50 percent—many businesses still overlook their mobile site. According to Google, there were over 27 billion more inquiries on mobile and the trend is expected to continue. These days, websites should be created with a mobile-first attitude. A website should load quickly across all devices, include all the information, internal links, and redirects. Luckily, this isn't too difficult with responsive design. Responsive design is where a website shifts depending on the device that is accessing it with the URL staying the same. There are free tools that let you check what your website looks like across all devices.
You can test if your website has any mobile-friendly issues by using free tools such as Google Search Console or Google Mobile-Friendly Test. It's also important to allow Google access to your website so it can crawl and index it.
Video Content
Video is more important than ever, so it should be a crucial part of your marketing strategy. Websites with video content are 50 times more likely to show up on the first page of Google. Although the video does not guarantee a place here, video content will greatly influence your ranking. This can be more of a challenge for certain businesses than others. For example, a visually focused business like an artist in Los Angeles may have more of an opportunity for video than a pediatrician in Alton. But all businesses need to think creatively on how they can visually display their business.
After you've created a video, it's helpful to add a description to your content so Google understands what it's looking at. Make certain to fit your video to the correct width of your web page layout.
Building a mobile and user-friendly site with video content will put you on the right path. Think about incorporating local SEO, visual, and voice search tools as well, and your site will boost its rankings across the board.