SEX LIFE: Skills that no Man can Resist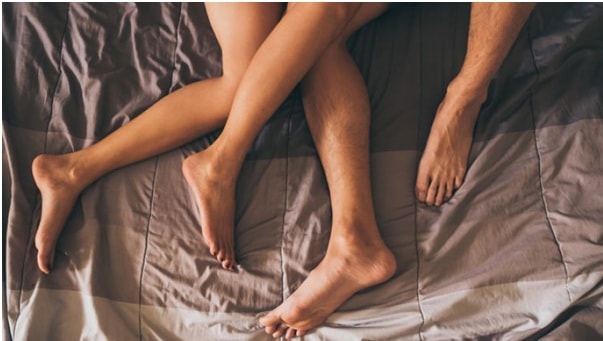 We all long to have as passionate and nice-looking sexes as we have seen them in movies.
But that is not the case, sadly. Sex can be frustrating and fall short of your expectations.
Don't worry too much.
Making love is truly an art. And it doesn't matter what level you are at: the more you know about it, the better you can master it.
With this article, I will show you ways to capture your partner's attention on the bed fully.
Guidance To Swing A Man Around On Bed
#1: Use eye contact
Lengthen eye contact with your partner can help promote the connection between two souls, and in turns carries out better sex.
This is actually quite difficult to achieve without getting into the right mindset. I would recommend you think of things that are special to you and make you feel either happy or satisfied, or even sexy.
By taking this step, you will find warmth radiated in your eyes. Also, prolonged eye contact would create PEA – a chemical in the brain that is also known as the love hormone, which helps a lot in removing your anxiety during sex away and guarantee your best performance on bed.
#2: Dirty talk
Many people may ignore the significant impact that dirty talk could have on their sex.
In fact, dirty talk is truly an ideal ingredient for decent sex as it expresses intense eroticism, makes room for excitement and imagination.
Although at times you may find dirty talk embarrassing, just start with small things then get your lips to do the job and ramp up over time. If you are still unsure of what to say, ask your love in advance if he has any preferences for the vocabulary you would use on the bed.
And trust me, dirty talk can give your sex partner's moto a big boost.
#3: Switch on the role-playing mode
Sex can be more interesting than ever with role-play as it allows us to try out a variety of sexual scenarios, and you do not have to get too far from your comfort zone.
Here is the idea: you can put a little drama in to spice your sex. Think of the secret sexual fantasies you have had recently, and then take the role, get into character.
You can put on costumes like a nurse in the hospital, a bad girl at school, a secretary at the office, or even a flight attendant.
Enjoy the game, and you will find him helplessly fall for you in no time.
#4: Summon your inner goddess
Getting in touch with your inner goddess is a way of ensuring your healthy, sexy, and happy lifestyle.
Although it is pretty frequent to know that men are the one taking control in the bedroom, a woman who acts as a dominant sex diva is everything a man dream of in his fantasy.
To achieve this title, you have to unleash your wildest potentials, your pure primal sexual skills.
Ask your partner if he minds involving in some BDSM activities or not and then, you can bring in some extra types of equipment into your bedroom.
Simply have a leather harness on your body, let your sexiness surround him and then, watch your boy whip and surrender.
#5: Make yourself a plate for some food
So here are the rules: you put delicious food on your body. And his job is to lick off and bite everything there is.
There are various options like strawberries, champagne, chocolate, or honey. It all depends on your preferences.
Additionally, in case you want to hit it up better, I would suggest you wear a bra with edible laces made of candies or toppings in different flavors.
This experience will bring your man the sweetest, hottest, most erotic sex he has ever had.
And about the dirt on your body, no need to worry about that! You can take a bath together later.
#6: Vibrate your mouth
This could sound weird to you, right?
It may never cross your mind to make your mouth vibrate by humming. But in fact, it brings your partner the feeling of using a sex toy with this vibration. Use gel kich thich diem G maybe make your love is exciter.
Another point you should mark down is that a variety of pitches that your voice creates could bring about a range of sensations. While more shallow pitches cause slower vibration, higher ones cause faster vibration.
#7: Put on sexy inner wears
Special night should match a special bra and pantie.
Why don't you try on sexy lingerie? With just enough nakedness under, it could arise his temptation, mysteriously cover your body and pave the way for his further imagination at the same time.
Decorate your bed with roses and wait for him to come home with a glass of champagne in your hand, or give him a crazy lap dance with your sexy smile.
You can imagine how he would go wild for you!
#8: Use temperature as your weapon
Prepare a cup of hot or iced coffee as you like, take a sip, then let your lips do the job. Kiss his wrist and move upwards to the inner side of his arm.
Science has it that this area is close to the veins, which makes it very receptive to touch and movements.
Hence, your man will go through a stage of nerves of both temperature- and pressure-sensitive nerves.
#9: Pay great attention to his fingers
Kissing hands could be as innocent as you may consider it to be. Think twice because you will be surprised at how sensitive your fingers are.
At the base of his fingers, place the tip of your tongue there, and slowly but nicely conquer your way up.
I would bet that you will give him goosebumps by doing this.
Final Thought
Above I have guided you through all the things you should do to change your bedroom tales forever. I hope that the information can be helpful for you in building a stronger base of sexual intimacy.
However, whatever you do, even when your desires aren't satisfied, don't ever call it quits. Instead, appreciate your other half and express your love in the language that he loves on the bed.
Good luck! And I wish to see you back in my next article!