Tips and Tricks to Wear Your Bikini With Confidence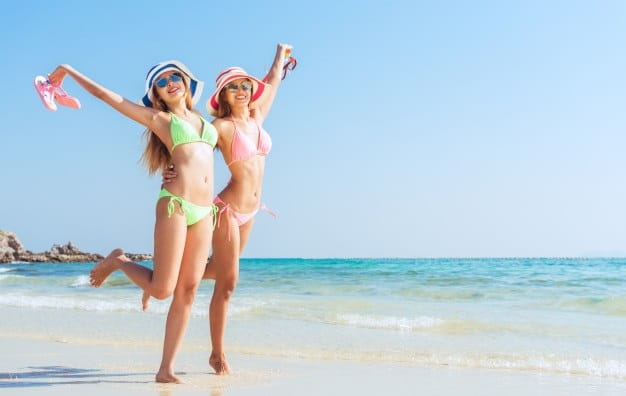 It is super sultry and sexy when you sashay down the pool or beach in your two-piece suit. Removing that kimono or cove up and revealing your hot body is indeed a sight to behold.
Unfortunately, not all girls feel this way. At times, when the area is filled with sexy, gorgeous women in their swimwear, you can't help but want to shy away and hold back.
Well, girlfriends, we are here to shout to the world that you don't have to hide in your covers or umbrella. Embrace those imperfections because they make you who you are.
You may not have that Swimsuit Illustrated body, but with the many styles of bikinis online, you can pick what enhances your curves.
So this summer season, it is time to shed those inhibitions. YOLO or you only live once, so accessorize your bikini and strut your suit with extra confidence.
Read on to know-how:
Pay Attention to Your Lifestyle
Eating a clean and balanced diet is one way to feel confident in your bikini. If you lay off the salt and stick to glow foods like fruits or veggies, you will feel better.
As they say, look good, feel good. It all starts from within. Salt and additives let your body retain water, giving you unsightly bulges. When you eat right, you will glow from within.
Don't forget to sleep well so you can recharge, drink tons of water to stay hydrated, and engage in exercise to sweat out those toxins. Keeping a healthy lifestyle will make you feel more confident in your bikini, even if you have flaws.
Don Fabulous Jewellery
Jewelry has two functions: one is to accentuate areas that you want to highlight while camouflaging imperfections. To illustrate, if you don't feel comfy showing your cleavage, you can wear a thickly layered necklace like a bib to conceal it.
In the same token, if you are feeling shy because of tummy rolls, you can draw the eyes away from the area by wearing chunky bracelets and chandelier earrings.
The key is using distraction so you can hide problem spots and showcase your best assets!
Pick a Fun Covering
If you feel conscious about your thighs or want to hide some stretch marks, wrapping a colorful sarong around your waist will help conceal them.
You can also choose a sexy lacy cover-up that matches your suit if you are feeling shy about exposing too much skin. Another option is an open kimono that accentuates both your body and suit design.
Choose a Style that Feels Right
With so many bikinis online, you can undoubtedly find a suit that feels right for your body. You can start by becoming familiar with your body type so you can choose a design that fits your frame, your skin tone, and personality.
This method will go a very long way in flattering your curves and amplifying your confidence level. For instance, if you feel unsure about your tummy, you can opt for a high waist bottom. When you feel good in your bikini, it will show on your face and body language.
Love the Skin You're In
Finally, the key to having boosted self-esteem is to give your body some much-needed love. The only way to get that done is acceptance. Realize that no one in this world is perfect.
Everyone has shortcomings…and that is okay. The more you love yourself, the less inadequacy and negativity you will see in the mirror. When you love the skin you're in, you will be kinder to yourself and feel more confident.