Revenue Cycle Management (RCM): Why Do we Need to do it well?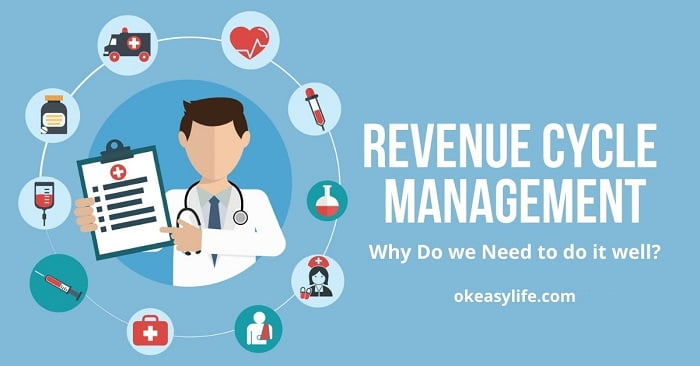 Do you know that your Denied Claims account for the major share on Missed Revenue?
Do you know that Increased A/R is hurting your cash-flow?
In the time of dynamic market scenario and value-based care, managing functionality could be challenging. The critical balance between providing patient care and managing the business continuity could bring in everyday challenges.
The Key challenges are
Not all patients are equal
Keeping a tab on the financial data can help us realize that all patients are not the same when it comes to payment. Data analytics and segmentation can help us take a customized and proactive approach to collection of pending bills. An ideal collection strategy should consider patient's payment history.
Data and Information Assimilation
Analyzing data and delving into analytics can help you get a one-shot view of the real time scenario. Too many indicators can put you out of perspective. As an organization, you need to have the right conversation with analytics and fact-based discussions.
Revenue Cycle Management is the complete answer to how you will manage your administrative tasks and the way you can get empowered by doing it right.
Technically, it is how a healthcare practice manages it finances around the various processes for end to end patient interaction.
From the first step when a patient calls for an appointment to the last step when you get the reimbursement, your revenue cycle management is crucial. Each touch point for the patient is an opportunity for data collection which renders important results for process improvement.
The Key aspect of any business is continual revenue generation and improved cash flow along with minimization of bad debt.
The Revenue Cycle Management Cycle involves medical coding and billing to insurance companies for reimbursement. The more accurate is the claim process, the faster is the reimbursement. Precision and timeliness is the benchmark in ensuring that your RCM is doing allright.
Although RCM is built around the administrative and financial aspects of healthcare, it is built around the key tasks for medical coding, medical billing, provider credentialing and payment posting.
Each task is an opportunity for analytics that can ensure process optimization. Micro level analysis of each task can help in minimizing errors.
Each transaction of RCM when rightly done takes you one step closer to your revenue generation. The faster and more accurate claims procedure, it not only provides cash flow for your business but also enables you for better care for your patients.
Building Trust with the Right Way of Revenue Cycle Management
Patients are critical to healthcare providers and providing them with a seamless experience is important. How patients are handled across the entire flow of treatment is itself a cumbersome task for the medical practice.
In addition to that, administrative tasks incur time and resources.
Any sort of inconvenience in managing these transactions is a loss of opportunity and trust with the patients.
Having a streamlined and seamless RCM workflow ensures that patient experience is comfortable and hassle free.
Key Steps in Revenue Cycle Management for Healthcare Units
There are various differences when it comes to provider types and how each transaction is managed. The better is the cost effectiveness of claims, the more is the cash flow. Apart from the transactions, it has a lot to do with how staff is trained and the procedures in place.
A typical Revenue Cycle Management Process starts with patient registration and verifying the insurance eligibility of the appointment.
This is when a claims process starts. Next step is medical coding and making charge entry. Once this is done it moves to the step of Claims Management.
It requires payment posting and denial management. This is an important step where you require medical coding services and denial management appeals. The next few steps are critical from the perspective of cash flow. Patient statements needs follow up for collections.This is the crucial stage for A/R Management.
You need proper strategy and understanding to recover these funds. A proper RCM company has key insights into how A/R can be minimized. Practically, any healthcare setup or practice is busy with patient care and dedicating resources for managing revenue cycle can be cumbersome.
Additionally, for effective RCM one requires trend analysis and analytics for effective strategies. Proper analysis of RCM data can render insights on improving each step.
Revenue cycle management is an activity that gets impacted from external scenarios like changes in coding principles and compliance.
The Health care model has transformed in recent years and market competition has made it more tough for practices to survive. Value Based care is the focus of the industry and medical health providers need multiple transitions to suit the new challenges.
Outsourcing revenue cycle management from a professional vendor can resolve major issues and help optimize the business processes.
At first, it may seem like a cost burden but when you closely look at the cost-benefit analysis, RCM can be a cost-effective option that contributes to the endeavor of value-based care.
Also Read: 9 Steps of Revenue Cycle Management in Healthcare
Why Revenue Cycle Management is Important for any healthcare unit, Private Practice of Ambulatory Care Services?
Irrespective of the kind of business model you have and your practice scope, revenue cycle management is crucial for business effectiveness. It not just helps you in better revenue generation, enhanced cash flow and better focus in patient care.
At every step of RCM lies the data that renders information for continual improvement. There are multitude of problems at every step of the process which includes wrong coding, denials, wastage, fraudulent practices and much more.
For a medical practice, patient care is a major concern but revenue and cash flow are crucial from a business perspective. Any problem arising in any process may impact patient experience.
It is important for the medical practitioners and business units to leverage on the technological improvements for enhancing their quality of care and business model.
Medical Billing and medical processes are not limited to transactions. It includes various patient records and how information is utilized to empower your business.
Protection of records is any medical practice is a critical issue for personal confidentiality and is protected by HIPAA. Any non-compliance can result in fines and may be detrimental for your reputation.
Information Management in healthcare is critical value proposition and effective RCM should be able to take care of it.
Medical Industry experts advise that automation of revenue cycle management with the right functions in place can have a lasting benefit for your business.
Role of Revenue Cycle Management in Medical Billing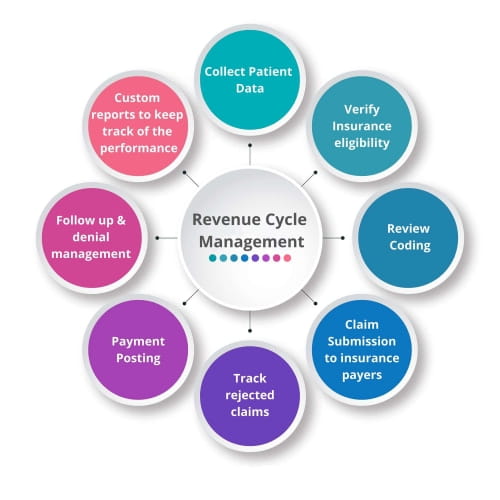 Traditionally, medical billing involved billing a patient for the service or get a reimbursement from the insurance provider. Usually claim submission is a time-consuming process and payments were delayed.
There was a gap between giving patient treatment to the time cash flows. Medical care is not a standalone activity but it involved many external factors.
In case of denials, incorrect coding and non-compliances, the burden comes on the medical practice. Denied claims are also an indicator of process efficacy.
A professional company should be able to analyze this key data why the claims are rejected. Lack of information, incorrect coding, system errors and compatibility problems could be major issues why claims are rejected.
We also need to look closely how many claims are passed in the first trial. It is a key metric for analyzing the effectiveness of the revenue cycle process.
Understanding key metrics and data analytics is a major step towards optimizing your processes. Getting help from a professional RCM company has multiple benefits for your practice.
It gives you access to experts who are specialized in this industry and understand the nuances for each step of RCM. They can help you build a more dependable system with cost effective procedures in place. Regular reports and analytics can render you with in-depth analysis on how things can be improved.
A trusted partner for RCM will also help you train your staff for the frontline procedures. Executing each step with precision is required for building confidence and enhancing patient experience.
RCM provides will understand your business flow in detail and build a custom design system that minimizes error instances and denials.
What to look for in the RCM?
The advent of technology and escalating competition has made it mandatory for business to look into their expenses and revenues.
By evaluating key indicators, you can understand the financial stability and business continuity. Looking at the financial picture can help you remove on weak areas.
It can save you time and resources ensuring business process improvement in the long run.
You need to ask yourself a few questions:
What are your Claims Denial Rate?
Most of the times, hospitals are monitoring the time lapse of the claims process. When insurance claims are denied by the providers, the reason for denial is usually not studied. Re looking into the metrics can help you avoid the instances in the future.
Time to Process Claims
It is extremely critical to track the average time to process the payment. Delays in reimbursement adversely affects the cash flow. Improving on the time lapse can bring visible results in the cash flow.
Accounts Payable & Accounts Receivable
Tracking expenses and payables is important in the fiscal analysis of the business. Closely monitoring the A/R and A/P helps in effective financial management.
Rates of Readmission
The transition towards the model of value-based care has redefined the way medical health care providers look into their business. Identifying patients coming to re admissions gives understanding of the clinical practice. It can further help in building strategies for improvement.
There are many experts in Revenue Cycle Management, technological solutions and staffing solutions for healthcare providers. They offer services for hospitals, ambulatory and critical care units, physician groups, DMEPOS and dental practices.
Major transformation is built around understanding the value proposition and internal procedures for your place and then building a system to optimize it.
They also help in Medicare and Medicaid Audits that help you go through seamlessly. Some of the major RCM providers have also built their own billing solutions software. Major players in the market understand provider enrollment and credentialing and have built leading edge solutions.
In a nutshell, Revenue cycle management is a key aspect of a medical practice. When hospitals are busy in providing quality care, the administrative and financial transactions often get a back seat.
From the business perspective, managing these transactions is very important for profitability. Experts suggest that RCM can go a long way in helping to build a sustainable business practice.
You can be best at your patient care and revenue cycle managements understand their niche. This symbiotic association is a sustainable business strategy for the long run.