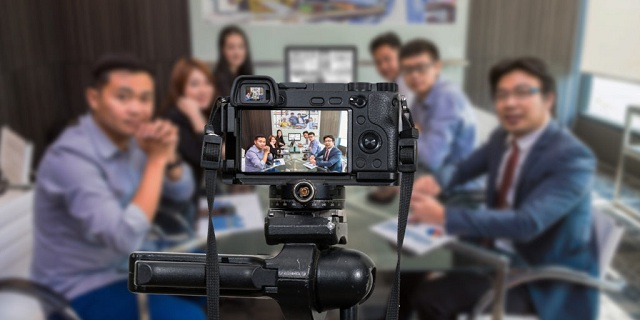 A company that presents its products or reviews on the website gets an unmatched advantage in this field of competitions.
Instead of using photographs or static content on your website, if you are using video content then the chances of getting a huge audience increase.
Using video presentations in a corporate website may get you more attraction and engage more people.
The reason is very simple. Explanations in the form of videos always seem more attractive than reading texts.
People tend to be lazier when it comes to understanding something. Reading is an active process while watching a video is a passive process. Thus, we have to do more work and put much effort in order to read something.
Numerous options are in front of you. Either you can learn how to present corporate videos on your website or you can hire some companies that provide such options.
Numerous companies are out there who provide E-commerce photography services and corporate video services in order to improve your business and save you a lot of time.
If you want to make your business more attractive and save some time to utilize it somewhere else, here we are going to present some of the corporate video ideas that will help you to get the same-
The first step for a company to be more famous among people would be brand promotion. You can promote your brand by making a video that exactly defines what your brand is all about.
Whenever someone lands on your website, they would see the video and get a complete overview of your project or whatever you are working on.
The video should explain completely what your business is all about and what your products focus on in order to solve a particular problem.
Some people also call this idea as an "explainer video". In order to create a perfect explainer video, you may make it simple, concise, and to the point.
If you are sharing some information or facts on your website, it would be a good option because facts matter a lot but it won't be enough.
The reason is simple because instead of reading the facts, people would love to hear them due to the reason that they have to do less work in order to get the required information. An infographic video is something that shares data in an interactive way.
An infographic video can be made by adding attractive music or a voice over in the same infographic. By this way, your old content will be repurposed in a different and effective way.
If you want to see how your customers are making decisions, you must try a review part. Some people just write reviews on their websites.
However, instead of just writing them, if you make a video on the reviews, it could help you to get more audience.
You can focus on reviews that are based on the theme of your website or you can simply make a review on a particular solution that features the most asked or raised questions.
If your customers regularly ask about some critical problems, you can make a review video on that particular problem featuring the solutions of the same issue and let them know how you solved the issue. This may help people to interact more.
Whenever someone doesn't understand something or they are having problems related to a particular situation, they search it online in order to get the solution.
At that time, making a tutorial would be the best option. Who doesn't like to watch the tutorial?
How-to videos are the easiest videos you can make and they can get you more followers. You can also merge the tutorial and review videos in order to get huge traffic.
Making lists is the best thing of a video when it comes to engaging audience. If you are describing something in a video continuously, people might get irritated and they won't even watch the full video.
However, if you break the video into parts i.e., top 10 lists or something similar to that, people would love to watch the video. Its nothing more than psychology.
In a nutshell
Irrespective of getting corporate video ideas, you can hire a company that provides similar facilities. There are numerous companies that would help you to get the same. Wiggle Media is a similar company providing numerous services including corporate film making, product photography, and many more.
We have provided you with some of the best corporate video ideas that may help you to set up your business in an effective way.