Top 5 Romantic Places to visit in Andaman and Nicobar Islands to Rekindle your love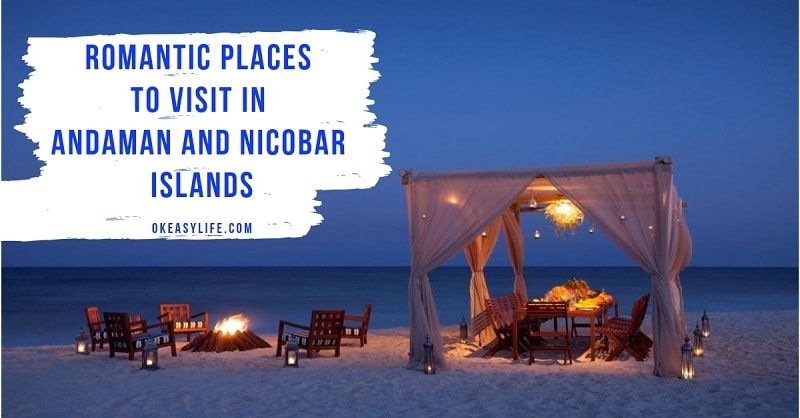 The Andaman and Nicobar islands are picture perfect for a romantic getaway. Emerald waters lapping against white sandy beaches, gracefully swaying coconut palms, lush green vegetation, colorful aquatic and avian life, as well as a great mix of bustling touristy locales and secluded calm beaches, offer the best of adventure and privacy for couples looking to spend time together.
While just about any place on these beautiful islands makes a great setting for romance when traveling with your loved one, some of the Andaman tourism locations prove more ideal in terms of the ambiance, amenities and activity options.
Here are our pick romantic places to visit in Andaman and Nicobar Islands for you to choose from, in no particular order.
Havelock Island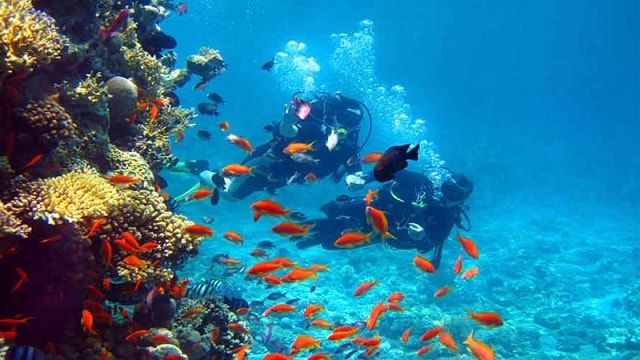 An eternal favorite with honeymooners, this extremely scenic island is the default choice of couples, especially on their maiden trip.
You are in for a delightful tour, right from the time you hop on a ferry, chopper or seaplane ride to Havelock Island from Port Blair, or any of the islands here.
Beach resorts overlooking the vast expanse of blue are hubs of luxury, privacy and adventure water sport are a haven for those seeking quality time with their partners.
The Radhanagar Beach, Kalapathar Beach and Elephant Beach are a must-visit.  The stretch of corals off the Elephant beach is simply breathtaking.
Seaplane rides, Scuba Diving, and Sea-Walking are but some of the mildly adventurous activities that you can enjoy when in Havelock, apart from basking in the sun.
Romantic dinner at one of the beach resorts, or even right on the beach is bound to be a memorable experience.
The spectacular visual effects created by bioluminescent phytoplankton present in the waters around Havelock enhance the romantic ambiance!
Neil Island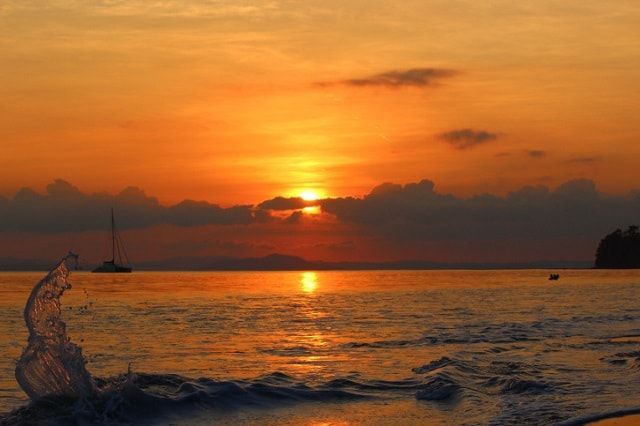 Accessible via water, Neil Island too makes a great locale for a romantic trip. The land is home to lush vegetation and several beaches, each unique in their own way.
There are not many distractions on this island other than water-based activities.
Clear pale blue waters of the Bharatpur Beach make it ideal for snorkeling, while the secluded and scenic Sitapur Beach with turquoise waters and white sands is great for photography and swimming as well.
The route leading to the Sitapur beach front too is equally stunning with limestone terrain interspersed with lush vegetation.
Laxmanpur Beach is a great setting to appreciate the beauty of the rising and setting sun and catch up on long strolls with your loved one.
Port Blair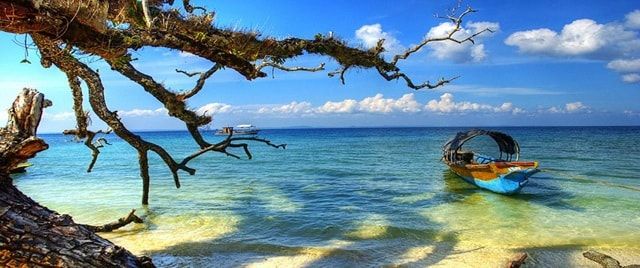 The capital city of Port Blair is by no means a calm or secluded location but there are select spots which allow for privacy.
Port Blair offers the best of luxurious accommodation, fine dining and sightseeing experiences for those on a romantic trip.
While the Cellular Jail and Samudrika Marine aquarium are typically part of the sightseeing itinerary, exploring the nearby North Bay Island, Jolly Buoy Island which houses the Mahatma Gandhi National Marine Park, Baratong Island and Ross Island enables you to spend more quality time with your loved one.
Tour the Harriet National Park near Port Blair to spot the multitude of colorful butterflies that thrive here.
Exploring the North Bay shoreline on the Semi-submarine lets you behold the beauty of the underwater marine life and corals in great detail, while a trip on the Andaman Dolphin glass boat is bound to be exhilarating.
Parasailing, snorkeling and other water-based activities are also quite popular in North Bay Island.
An hour's boat ride to Baratong Island will lead you through dense mangrove vegetation to a yester-world of limestone caves built overages.
Explore and appreciate the naturally sculpted fossilized structures on this island along with your loved one.
Couples can also enjoy the Floating Restaurant Dinner Cruise aboard TSG Bella Bay during their visit to Port Blair, sailing around the Port as they relish the spread.
Diglipur
Diglipur, the seat of eco-tourism in North Andamans is off the beaten track of regular tourists.
Paddy and other vegetable crops, coconut and orange farms welcome visitors to this town which is also home to the only Hydro-electric Project powered by the (only) river Kalpong in Andaman.
Diglipur is a delightful town with its own set of unique attractions such as mud-volcanoes and limestone caves that house fruit bats and swiftlets.
Nestled amidst dense vegetation a collection of dormant and active mud-spewing volcanoes is an interesting spectacle.
Beaches at Ramnagar and Kalipur are the nesting grounds of turtles where you can find several of them at ease on the sands.
Saddle Peak, the highest point in Andaman offers spectacular panoramic views of this stunning landscape while the Lamiya Beach at its foothills is a calm and secluded beach just perfect for a romantic stroll.
The scenic Pathi Level Beach also is a haven for those who love the solitude.
When done spending time at the beaches, you may opt for a guided tour of the 41 limestone caves aka Alfred Caves and wonder at the naturally sculpted structure that actually changes shape after the rains as the water chemically reacts with other minerals that line these caves.
The Great Nicobar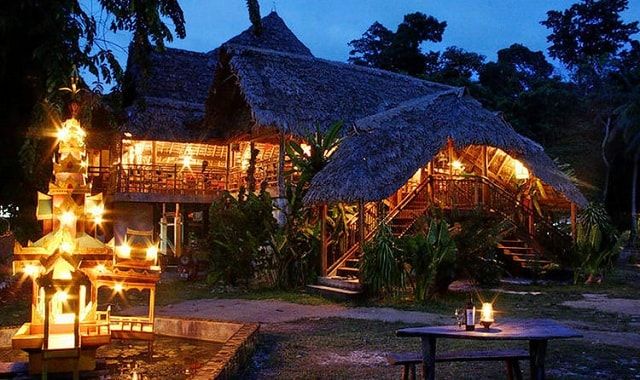 Tourists can now visit the Nicobar Islands which were off limits earlier.  This one is the largest of the nearly over 100 islands of Nicobar.
Pristine settings, lush forests, calm surroundings, and rich indigenous plant and animal life are the main attractions here.  All basic tourist amenities including comfortable accommodations are available.
Campbell Bay is an ideal spot for couples to soak in the beauty of the setting and catch a glimpse of marine creatures and local birds as well!
Conclusion
These are but some of the Andaman Tourism locations the appeal to couples on a romantic trip, be a honeymoon or otherwise.
Little Andaman, Viper Island, and several local attractions are equally worth a visit.  With almost all major islands connected by ferries or air, you are indeed free to explore this beautiful landscape no matter whether you stay in Port Blair, Havelock or Neil islands!
There's no dearth of romantic locales in the Andaman. It is your travel preferences and interests, duration of the visit and budget that determines where exactly you wish to spend your holiday.
Here are the Handpicked article that you must read.
Top 10 Places to see Snowfall in India right now
Top 20 Places to visit in Uttarakhand
Tourist Places to visit near Hyderabad within 100 km
Top 7 Tourist Places near Bangalore within 300 kms