Best 10 Style Tips for Casual Blue Shirt Combination
There are certain times when we have all the necessary requirements related to clothing but still, we do not know how to combine our upper wear with lower wear. In the wardrobe, it is very important to have a combination that turns out to be a casual style. One of the most popular combinations for upper wear is with a blue shirt i.e., blue shirt combination.
The blue shirt is known to be a perfect outfit if worn with an amazing combination of lower wears.
Sometimes, it does not matter the type of cloth your blue shirt is made of but if you want to wear a perfect combination, it does matter.
You have numerous options for you. You can either tuck your shirt in or let it peek out. You can match your shirt with similar pants or you can even try a jacket upon it.
You can choose among a wide range of different options like half sleeves shirt or full sleeves shirt.
If you want to look smart, unique and different from all, you can check out these blue shirt combinations that will definitely make you feel attractive.
Combination Of Navy Blue Shirt With Jeans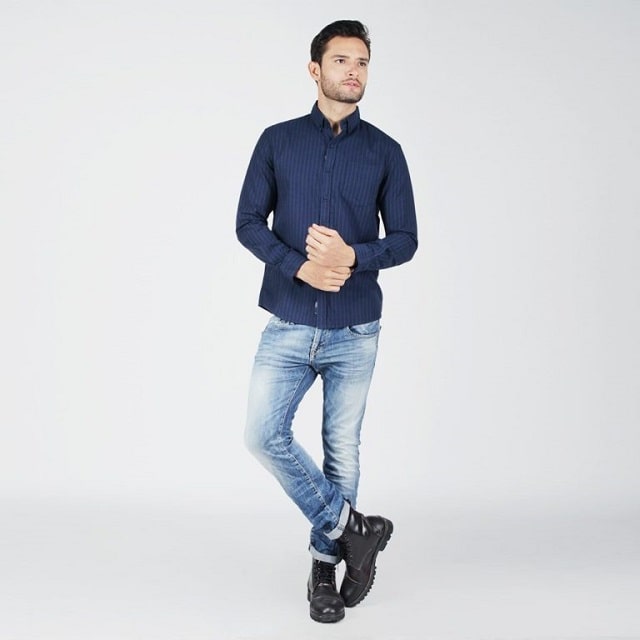 Navy blue is one of the most favorites colors of men when it comes to wearing the upper outfit. 9 out of 10 men love to wear a navy blue shirt with different combinations.
You will get numerous options in a blue shirt such as a printed shirt, plain shirt, vertical line shirt, etc. When it comes to the lower outfit, try to wear light blue jeans that are washable.
With blue jeans, you will get both the options of wearing a shirt-in or shirt-out.
Also Read: Style Tips for Casual white Shirt Combination
Combinations of Navy Blue Shirt With White Pant

You must have noticed that opposite colors always bring an outstanding and unique look. That is the reason why we have suggested the blue shirt combination with white pant.
If you are looking for casual wear, there is no better outfit than the combination of a blue shirt with a white pant.
Along with the white pants on a navy blue shirt, you can also try a white jacket or blazer. It will add some extra glow to your outfit.
Dark Blue Shirt With Dark Colored Jeans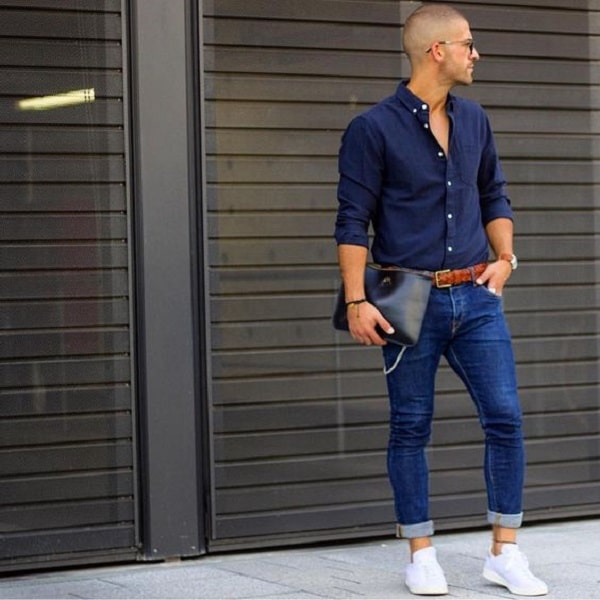 If you want to wear a casual outfit and if you love wearing jeans at your work also, the combination of a dark blue shirt with dark colored jeans is another perfect combination for you.
There are numerous color variations available for this outfit such as light blue shirt, sky blue, navy blue, dark blue, etc.
You can even try a small print or a floral print shirt with jeans.
Also Check: Budget Long Lasting Perfumes for Mens in India
Denim Blue Shirt With Black Jeans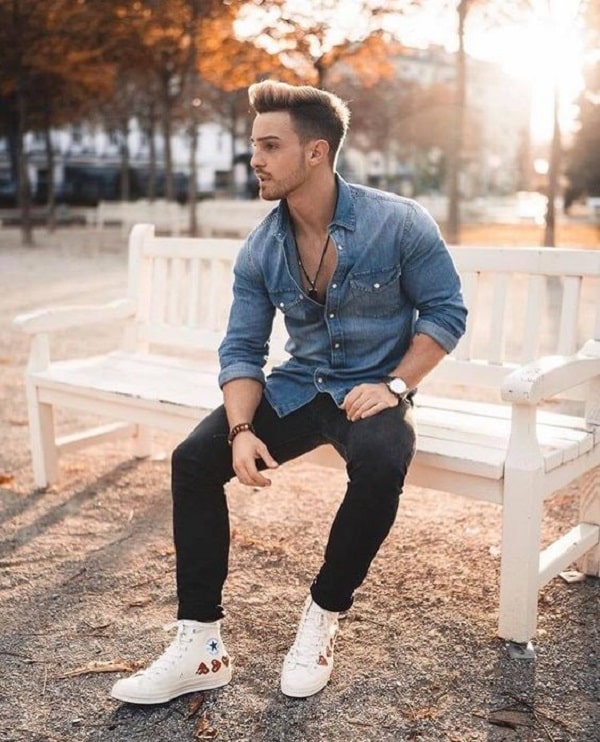 When it comes to style, denim always comes at one of the top positions. Denim is something that gives unique confidence to the men wearing their outfit.
And there is no better combination than that of a denim blue shirt with black jeans. The blue shirt combination of denim with black jeans provides an eye-catching personality to the men.
Blue Denim Shirt With Khaki Jeans Combination

You will get a lot of options in Denim while choosing a blue shirt. Wearing any type of available denim fabric such as hard denim, cotton denim, soft denim, etc, all of these can be a blue shirt combination with khaki jeans.
A double pocket denim blue shirt with khaki jeans always increases the charm of a man.
Read more: Best Hair Dryers For Men and Women
Blue Denim Shirt Combination With Green Cargo Jeans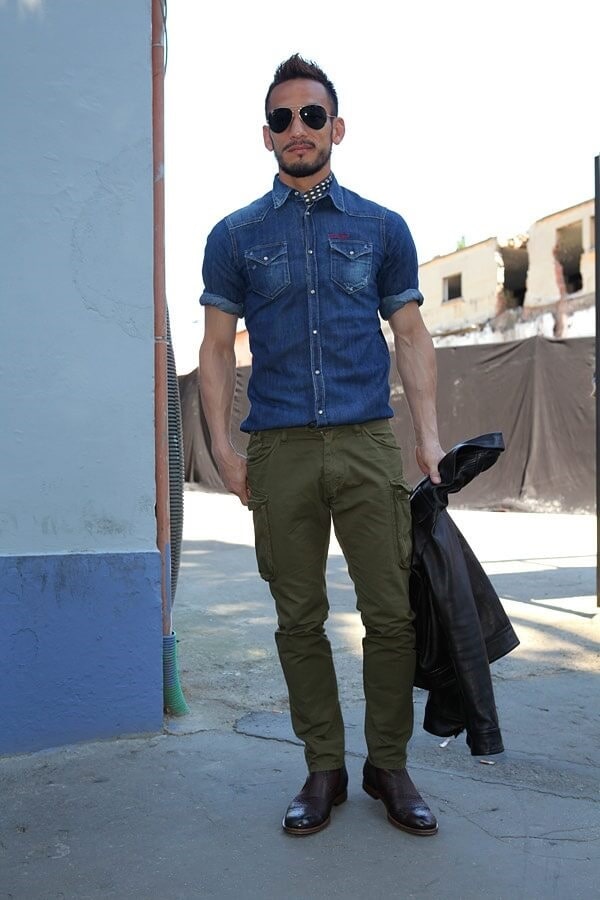 Wearing a dark blue denim shirt, rolling up the sleeves of the shirt to the elbow and matching it with the combination of green cargo jeans will give you a desirable and extraordinary look.
You can even wear a leather jacket over the blue shirt that will add more to your outfit and provide you with a fantastic look.
Checked Blue Shirt With Light Colored Jeans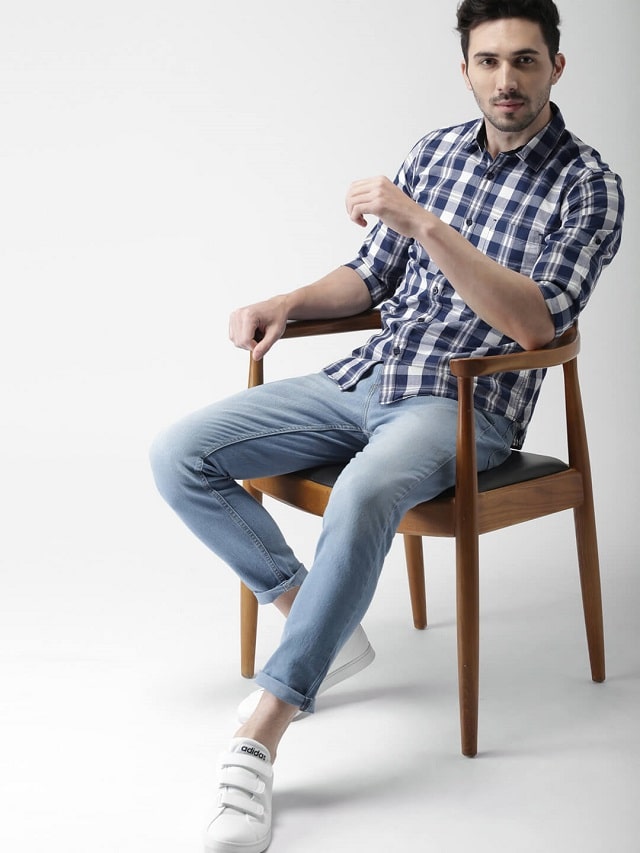 It has been a long time since the fashion of checked designs came into the market and people still love the wear the outfit as it has arrived just a few days ago. You will get various checked designs in a blue shirt such as small checked, big checked, contrast checked design, etc.
The combination of a checked blue shirt with light-colored jeans suits a man both in the formal as well as a casual look.
Know more: Best overall home exercise equipment
Checked Blue Shirt With a Dark Colored Denim Jeans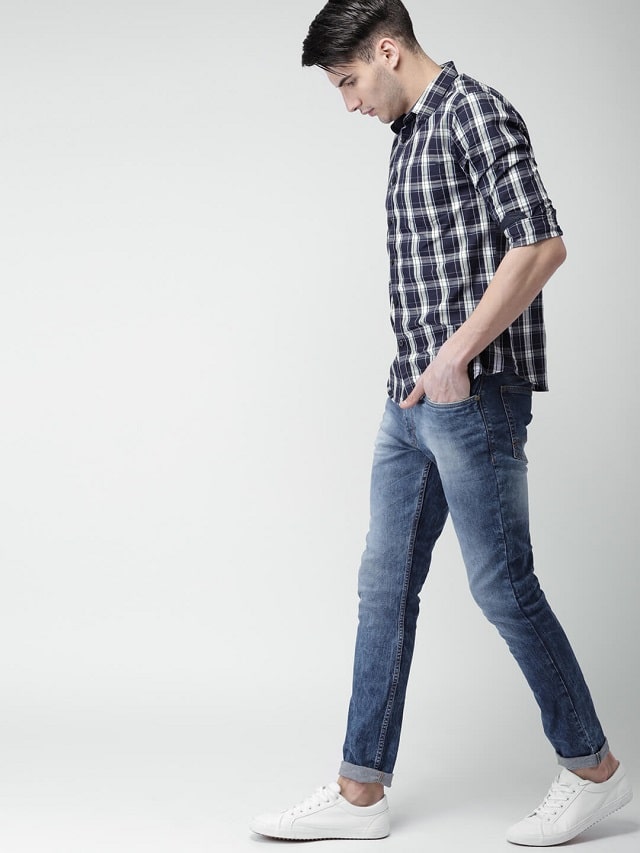 Apart from the denim shirts, denim jeans are also in a huge craze among both the men and women.
The combination of a checked blue shirt with dark-colored Denim jeans appears to be an outstanding outfit for men, especially for those who want to wear a casual outfit with blue shirt combinations.
Checked Sky Blue Shirt with Dark Blue Pants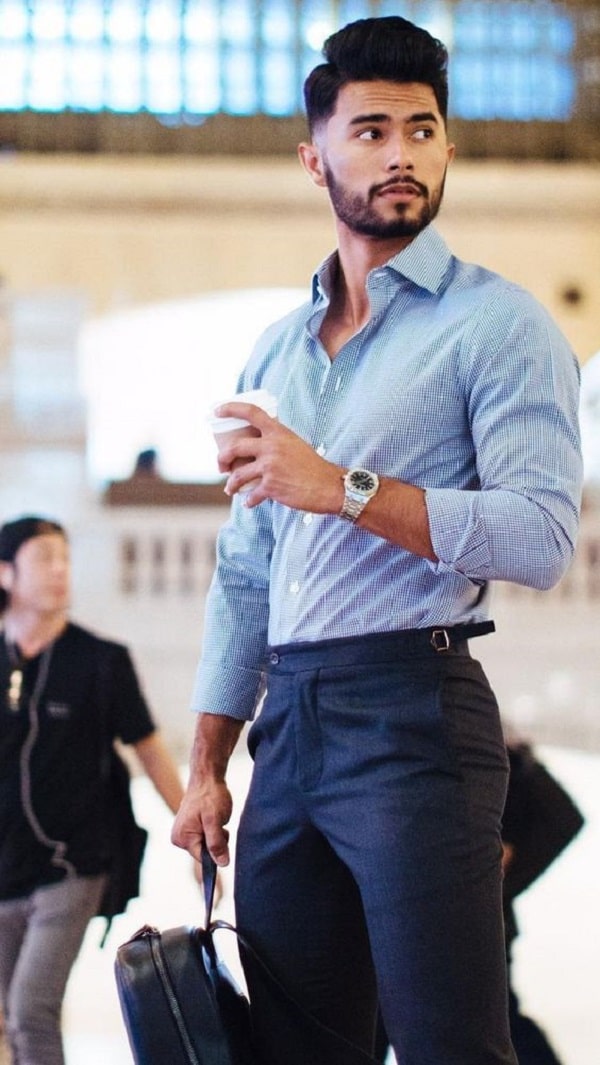 The combination of checked sky blue shirts i.e., light-colored shirts with dark-colored blue jeans turns out to be one of the most perfect combinations. Though the combination looks more like a formal outfit, it can be worn easily as a casual outfit too.
Moreover, you can also try a wide range of footwear such as loafers or formal shoes with the combination.
Read: Top 10 Unique Birthday Gift Ideas for Girlfriend
Plain Sky Blue Colored Shirts With Grey Colored Pants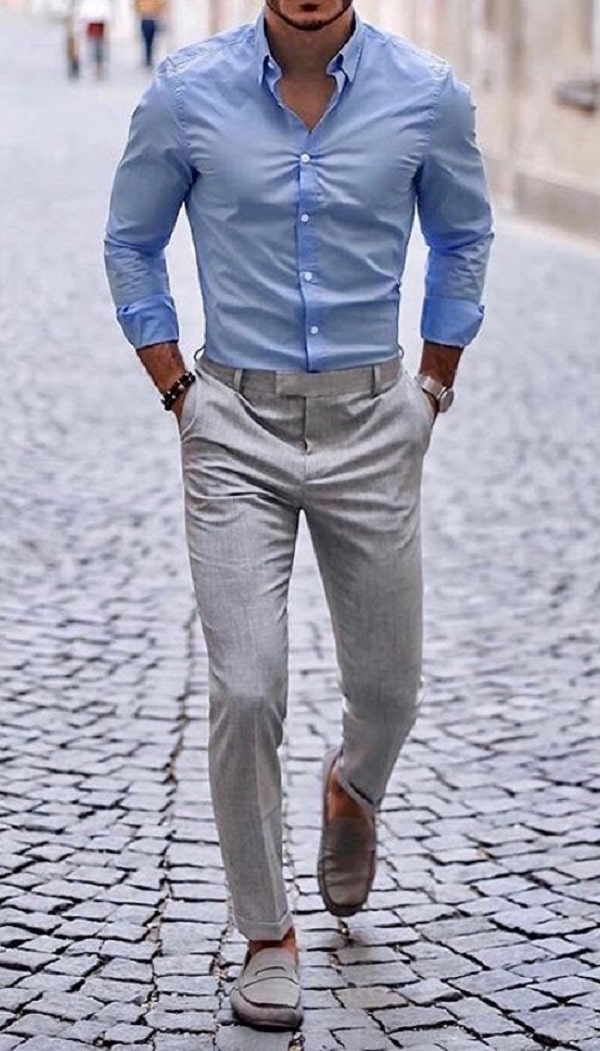 We have provided you with lots of color options with different types of designs of blue shirt combination. But as it is said, simplicity is the best key for happiness. The combination of plain sky blue colored shirts with the same color texture of grey colored pants gives an extraordinary look to the person wearing it.
The outfit can be worn both as a formal as well as casual style and you can try a wide range of formal shoes or loafers beneath the outfit.
In a nutshell
These were some of the great blue color combinations with different upper as well as lower outfits. Now, you do need to worry about what combination will suit with your blue shirt because you can choose as many combinations as you want and look perfect every time.
Here are the Handpicked article that you must read.