10 Best Places to visit in Sikkim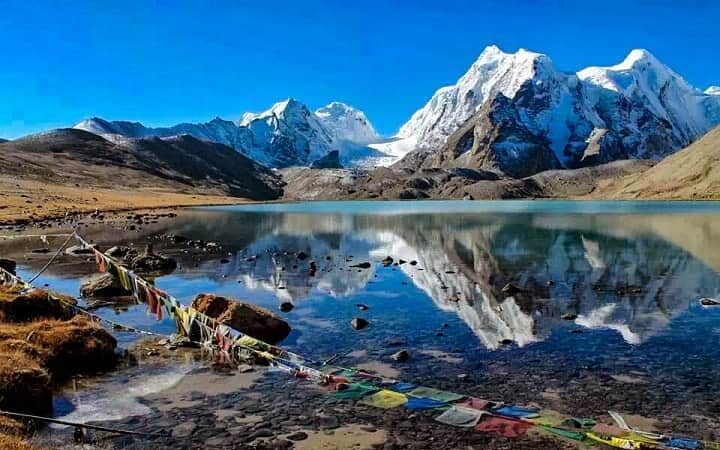 Sikkim is a state in the northeastern part of India. It borders China in the north, Bhutan in the east, Nepal in the west, and West Bengal in the south. Sikkim is the least populous and second smallest among the Indian states.
Sikkim is a part of eastern Himalayas and has great biodiversity, and is a host to Kangchenjunga, highest peak in India and third highest on earth. In fact, Sikkim also has Kangchenjunga national park which is spread in almost 35 % of Sikkim.
Sikkim is situated in an ecological hotspot and one of only three ecoregions of India. Sikkim is mostly covered in forests and is home to a wide variety of flora and fauna. Sikkim's variety of plants ranges from tropical to temperate, alpine and tundra, and around 5 thousand species of flower plants and is undoubtedly the only region in the world to exhibit such a diversity within such a small area.
If you thought Sikkim can offer a beautiful flora only then it's a mistake because the best part of Sikkim's natural diversity is the fauna it has to offer. Sikkim's fauna includes Snow Leopard, Musk Deer, Himalayan Serow, Himalayan Goral, Muntjac, Common Langur, Clouded Leopard, Tibetan Wolf.
Places to visit in Sikkim
1. Gangtok
Gangtok is the capital of Sikkim and the largest town in the state of Sikkim. Gangtok means hilltop and can be said to be one of the most beautiful hill stations in India.
Gangtok is one of the most popular hill stations in India and is famous for its incredibly alluring beauty, pleasantly boisterous, and wreathed in cloud views. Gangtok offers a breathtaking and rejuvenating view of Mt. Kanchenjunga during bright sunny days.
Gangtok is surrounded by abundant natural beauty and has various attractions such as Tsomgo Lake, Jan Jhakri Falls, Tashi viewpoint and the list continues. Not only natural beauty but Sikkim offers religious beauty too.
Some of the most famous religious sites include Enchey Monastery, Ganesh Tok, Do Drul Chorten Rumtek Monastery. If you are someone looking for adventure then you should know that Gangtok is a base for trekkers and campers to the Himalayan mountain ranges.
River Teesta is the best spot for white water rafting in northeast India.
Also Read: Perfumes for Men in India
Best places to visit in Gangtok
Nathula Pass
Nathula pass is situated on the Indo-Tibetan border at 14450 ft. above sea level. It is a mountain pass in the Himalayan peaks that co-joins Sikkim and China.
Nathu means listening to ears and la means pass. Nathula pass is famous for its picturesque beauty and beautiful environment.
The Rumtek Monastery
The Rumtek Monastery is situated on top of a hill around 25 km from Gangtok. It is one of the largest and most important monasteries in Sikkim. It is originally called as dharma chakra center.
It is surrounded by beautiful green mountains and thus is a visual treat and a focal point for spiritual solace. The best part is when you climb on top of the Rumtek Monastery, you get a breathtaking view of Gangtok and hill around the monastery.
Tsomgo Lake
Tsomgo lake is situated on nathula highway at the height of 12400 ft. perched between the mountains it is one of the few high altitude lakes in India.
It is surrounded by mountains covered with snow and green alpine forests which makes this an overwhelming scenic beauty. The lakes mesmerizing scenic allure and the charming beauty is bound to leave you in awe.
Ganesh Tok
Ganesh Tok is a small temple and a beautiful viewpoint in Gangtok, this quaint place has a mind stirring views. It is situated on top of a hill and offers the best view of the Kanchenjunga hill especially in the morning.
Ganesh Tok is surrounded by serene hills, landscapes, and beautiful mountains. This temple has a religious significance attached to it and offers peaceful surroundings making it a perfect place for all nature lovers and photographers.
MG Road
MG Road is the central shopping hub and is the heart of Gangtok and its most happening place. The first thing you will notice on this road is that despite a huge crowd this place is always clean.
This entire place is free of smoke, litter, and vehicular traffic. MG road is most famous for its food and cultural festival held every year in December.
How to reach Gangtok
The nearest airport is in Gangtok only, however, it is very well connected with roads. You can get a cab or bus to reach Gangtok.
Best time to visit Gangtok
Going to Gangtok throughout the year is a great idea however if you visit Gangtok from September to January you will see a completely different heaven there for all the mountains will be covered in snow.
2. Lachung
Lachung is situated in North Sikkim it is sited at spot where two tributaries lachung and Lachen meet. Lachung is famous for its many beautiful waterfalls, snow-covered mountains, sparkling streams, peaks, and much more. Lachung has been described as the most picturesque village of Sikkim.
Places to visit in Lachung
Lachung Monastery
Lachung monastery is a beautiful monastery situatedin lachung but it is famous for its mask dance. Every year a lot of people visit lachung monastery during December to witness this fascinating dance. The beauty of this dance is because of the heavy masks and colorful clothes worn by the performers.
Gurudongmar Lake
Gurudongmar lake is situated at an altitude of 17,800 ft. This half-frozen lake is surrounded by snow-covered mountains in the background. This lake is associated with many religious beliefs since old times and has a beautiful sight.
Bhim Nala Waterfalls
Bhim Nala waterfall is located 13 km away from lachung. It is known as the tallest waterfall in Sikkim. The best part about this waterfall is that it flows in 3 tires and is a perfect spot for taking pictures and relaxing.
Mount Katao
If you are visiting Lachung then going to mount katao is a must. You can trek to mount katao. Trekking to mount katao is an amazing experience as you get to walk on snowy trails and basking in the amidst breathtaking views.
How to reach Lachung
The nearest airport is in Gangtok. Lachung has a railway station and is easily accessible. It is a hill station thus tourists usually prefer to travel through road.
Best time to visit Lachung
Visiting Lachung anytime is a great idea however it is advised to visit Lachung during winters as you get to see snow-covered mountains during winters
3. Pelling
Pelling is a small town situated in the western district of Sikkim. It is considered as the second most visited destination in Sikkim after Gangtok.
Pelling is a small town covered with thick forest and snow-covered mountains. Pelling is also a major tourist destination for an adventure enthusiasts. Pelling has sites for mountain biking, rock climbing, village tours, and treks in the region.
Overall Pelling is a perfect holiday destination for both nature lovers and adventure enthusiasts.
Places to visit in Pelling
Sangachoeling Monastery
Sangachoeling monastery is located on top of a ridge near Pelling. It was established in the 17th century by Lama Gyalwa Lhatsun Chempo.
It is one of the oldest and most beautiful monasteries in the world. It is one of the most popular among tourists visiting Pelling.
Pemayangtse Monastery
Pemayangtse monastery is one of the oldest monasteries in Sikkim and the world. It is located around 6 km away from Pelling.
It is famous for its intricately carved, wooden, 7-tired 3d model which displays a heavenly space. Pemayangtse monastery gives spiritual insight into Buddhism.
Darap Village
Darap village is located around 8 km away from Pelling. If you are someone who wants to lay back and relax in an amazing view of mountains then Darap village is your best choice.
Darap village offers homestay for you to understand local culture and traditions.
Rimbi river and waterfall
Rimbi river is located approximately 19 km away from Pelling and Rimbi waterfall is located just above the Rimbi river. It is a very popular picnic spot among families. It is a relatively small place to visit but extremely beautiful.
How to reach Pelling
The nearest airport is in Bagdogra whereas the nearest railway station is in Jalpaiguri. However, Pelling is very well connected with other cities of Sikkim through roads.
Best time to visit Pelling
Pelling can be visited at all times of the year but it is advised to avoid going to Pelling during monsoon season.
4. Namchi
Namchi is a beautiful town in the south Sikkim that is favored with the bounties of nature. Namchi means 'top of the sky'. If you are someone who wants to enjoy shopping in a place surrounded by mountains then this is the place that can satisfy the shopaholic in you.
Namchi is also famous for 2 gigantic statues that are facing off from opposite hillsides across Namchi. It is also famous for the Choeling monastery and Dichen Choeling monastery. World's largest statue is also situated in Namchi.
Places to visit in Namchi
Samdruptse Hill
It is located at a distance of 5 km from Namchi. Samdruptse is famous for guru Padmasambhava also known as Guru Rinpoche. It is a 45 m tall statue that is visible from the entire city. This statue is covered with gold that sparkles when the daylight falls over it.
Doling Gompa
Doling Gompa is located on a little hillock, peaceful, and beautiful Barfung town. This monastery is famous it tails one of the most seasoned factions that is the Nyingmapa organization of Buddhism.
Being situated on a lifted stage and surrounded by colorful flags and thick woodland makes it a fascinating destination.
Maenam Wildlife Sanctuary
Maenam is a 'gem box' of exceptional natural life in Namchi. This place is best for an individual who gets a kick in spending time with nature.
It is a must-visit attraction for everyone who appreciates wildlife. Maenam is situated on the Maenam-Tendong Ridge and is a place to see therapeutic plants and herbs.
How to reach Namchi
Namchi does not have its own airport. The nearest airport is at Bagdogra. The nearest railway station is in Jalpaiguri. However, Namchi is well connected by roads to other cities of Sikkim.
Best time to visit Namchi
You can visit Namchi at any time of the year. However, summers are the best time to visit namchi as the weather is pleasant during this time.
5. Ravangla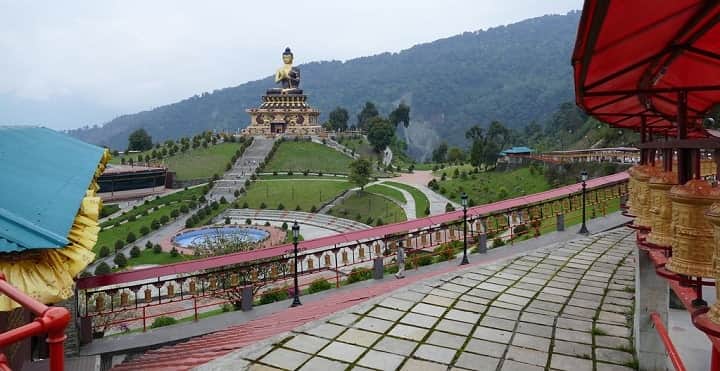 Ravangla is a small town located in South Sikkim. It has a phenomenal view of high- forested hills, rolling valleys, and village huts, these things make it an ideal destination for all nature lovers.
The main attraction of Ravangla is the spectacular sight of the snow-covered peaks such as Kanchenjungha and its sister peak Pandim, Kabru, Sinialchu. Ravangla is blessed with rich natural diversity, the beautiful flora and fauna in the thick forest, majestic snow mountains, amazing waterfalls, scenic tea gardens, peaceful villages, great ethnic culture, religious old monasteries, and fresh atmosphere.
If this doesn't excite you to visit Ravangla once then nothing will ever do.
Learn More about Home Exercise Equipments
Places to visit in Ravangla
Buddha Park
It is one of the main attractions of Ravangla and is also known as Tathagata Tsa. This park is part of a 100-year-old religious complex known as Rabong Gompa and this park has a 130 feet high statue of Gautam Buddha at its center.
2.Old and New Ralang Monastery
Both Ralang Monastery is located around 11 km away from Buddha Park. New Ralang Monastery is an occasional residence of Gyaltsap Rinpoche and is home to around 500 monks.
They are one of the highest monasteries in Sikkim and world. They are famous for paintings and thangkas displayed here.
Ralong Hot Water Springs
If you are an adventure lover then you can trek to Ralong hot water springs which are about a 1-hour walk from the Ralong monastery. It is very famous for its healing properties around the world.
Trekking in Ravangla
If you are an adventure enthusiast then treks in Ravangla are heaven for you. The first one is Maenam hill trek which provides a breathtaking view of the surrounding hills which are a treat for the eyes.
The second one is the Maenam sanctuary trek. It is one of the richest butterfly spotting zones where you can also spot rhododendron, oak, chestnut, and magnolia trees.
You can also spot red pandas, Himalayan black bears, and different varieties of deer that make it a heavenly sight to look at.
How to reach Ravangla
Nearest helipads are in Pelling and Gangtok. The nearest railway station is in Jalpaiguri. It is very well connected to different cities of Sikkim through roads.
Best time to visit Ravangla
Ravangla can be throughout the year however winters here are severe therefore it is advised to avoid visiting this place in winters.
6. Yuksom
Yuksom is situated in the western part of Sikkim. It is a small beautiful place which is well known for its natural beauty. Yuksom is a hotspot for all the adventure enthusiasts because it is a base camp for some of the most adventurous treks in Sikkim.
Yuksom has a very high historical value due to a number of religious and historical monasteries like Dubdi and Sangachoeling, the first to be constructed in Sikkim. It is also very important to Sikkimese as the first Chogyal was crowned here in 1642.
Know More: Hair Dryers For under 1500
Places to visit in Yuksom
Khecheopalri Lake
Khecheoparli lake is around 25 km away from Yuksom, it lies on the Yuksom-Pelling trek. It is considered to be a wish-fulfilling lake.
This lake is very popular around the world and every year many tourists from around the globe in the hope of getting their wishes fulfilled.
This lake is also famous for the fact that you will never find any leaves floating on the lake. Whenever a leave falls on the lake it is picked up by birds instantly.
Tashiding Monastery
Tashiding monastery was built by the Buddhist master, Guru Padmasambhava. This monastery is considered as an important place because it has been built with traditional Buddhist architecture and contains various artefacts.
It is also famous for Bumchu festival held in march every year and is an auspicious festival for Buddhists.
Kanchendzonga National Park
It is located around 35 km from Yuksom and is one of the best national parks in India. You should visit Kanchendzonga during April-may when the weather is good and you can spot species like Snow Leopard, Sloth Bear, Himalayan Black Bear, Red Panda, and various other Himalayan animals.
How to reach Yuksom
The nearest airport is in Bahdogra and the nearest railway station is in New Jalpaiguri. Yuksom is very well connected to other cities of the Sikkim but is very poorly lit so it is advised to avoid night travel.
Best time to visit Yuksom
The weather is great all year long in Yuksom. You can visit Yuksom at any time of the year.
7. Lachen
Lachen is a small town located in the north Sikkim. Lichen is one of the most beautiful town in Sikkim which is well known for its Lachung monastery. The best thing about Lachen is its natural beauty and serene vegetation.
It is one of the most important and famous places for Buddhist pilgrims. Lachen is also famous for Gurudongmar and Tso Lhamu lakes.
It is also a base area for many treks because of its pine-covered valleys and black cliffs of snowy white hills that start from here. Lachen provides expeditions to shinghba rhododendron sanctuary, Gurudongmar lake, Cho-Lamu, Chopta valley.
Places to visit in Lachen
Gurudongmar Lake
Gurudongmar lake or green lake is the most famous lake of Sikkim and highlight of Lachen. Green lake is considered sacred by the locals.
It is said to be blessed by the guru Padmasambhava, the founder of Tibetan Buddhism. This lake is situated near Kanchenjunga ranges and the trek to Gurudongmar lake is very beautiful as you can spot some wildlife and exotic bird species.
Rhododendron Sanctuary
If you are a flower lover or someone who adores natural beauty then this place should be on the top of your list. From April to June as many as 40 different types of rhododendron species blooms here.
How to reach Lachen
The nearest airport is in Bagdogra, the nearest railway station is in Darjeeling. Lachen is very well connected through roads.
Best time to visit Lanchen
The best time to visit Lanchen will be from April to July. However, you can also visit during winters.
Also Read About: place to visit near delhi within 200 km
8. Rinchenpong
Rinchenpong is a small yet mesmerizing town covered in heavy forested area. It s tucked in the lap of Himalayas and is popularly known as a silent valley.
Most of the tourists are attracted to Rinchenpong due to its scenic beauty and panoramic views.
Places to visit in Rinchenpong
Rinchenpong Monastery
Rinchenpong monastery is situated at a height of 1,700m in Rinchenpong village. It is popular with tourists for its scenic beauty and singular Buddha statue.
Near this monastery is the poison pokhari, the famous poisoned lake, a symbol of resistance against foreign invasion.
Maggi Dara
Maggi Dara is a small place located about 9 km from Rinchenpong. It houses a monastery which is really beautiful. It is popular among the tourists for its beautiful wall paintings.
How to reach Rinchenpong
The nearest airport is in Bagdogra. The nearest railway station is in New Jalpaiguri. It is very well connected by roads.
Best time to reach Rinchenpong
You can visit Rinchenpong at any time of the year.
9. Jorethang
Jorethang is a great town in south Sikkim. Jorethang lies on the rangeet river. Jorethang is situated between the huge mountains and hills in Sikkim.
Key places to visit in Jorethang
Jorethang maghe mela
Maghe Mela is held every year in January. It is a major event that attracts thousands of locals and tourists who can buy various local products from the hundreds of stalls that are put up for sale by locals.
How to reach Jorethang
The nearest airport is in Bagdogra in West Bengal. The nearest railway station is in New Jalpaiguri. It is very well connected with roads and is 85 km from Siliguri.
Best time to reach Jorethang
January is the best time to Jorethang as you can enjoy maghe mela.