Traditional Dress of Uttarakhand for Men and Women – Pahadi Attire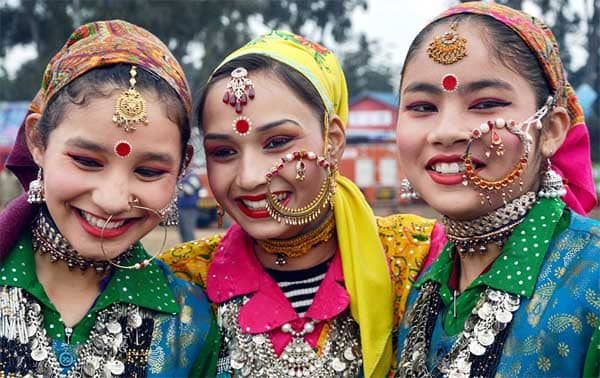 Uttarakhand is situated on the Northside of India. The heritage of Uttarakhand is rich and has been very well-maintained.
All credit goes to the people who live here, called Pahadi people, as they constantly put in their efforts to keep their cultural heritage alive.
The people here mainly encompass of the Garhwalis and the Kumaonis. Several people are belonging to different cultures who have come here stay and all these people are live here peacefully with love.
The music, the festivals, the dance, and songs along with the Uttarakhand traditional dress of the people are very different from the rest of India.
Traditional Dresses of Uttarakhand (Garhwali People)

The attire of Garhwali Men
Most men of Uttarakhand wear a lungi or a dhoti which is the lower body dress and the upper wear is a kurta.
The men here love to wear a turban and this is also a part of their traditional dress.
Men here also wear kurta pajamas and woolen jackets and sweaters depending upon seasons.
In most cases, it is noticed that the turban is worn by the older men and the younger men mostly prefer to wear topis. Some local people are influenced by British attire wear suits and coats.
During wedding men wear yellow colored kurta and dhoti. Which can be of cotton or woolen depending upon the season.
The Attire of Garhwali Women
The women who live in the Pithoragarh area of the state usually wrap a saree around them and this is called Sarang. It requires proper pleats just as it is done with a normal saree.
The single difference with this saree is that while the pallu goes to the left shoulder when tying a normal saree, here the pallu is again tied around the waist so that the portion that is decorated comes in the front to increase its beauty.
They habitually wrap a shawl around their waist and this seems like a waistband.
On top of a full sleeve sweater, they also wear a blouse. This helps them to be completely protected for the winters.
Traditional Dresses of Kumaoni Men and Women

The attire of Kumaoni Men
Kumaonis are quite different from Garhwalis in many ways but their attire is very similar.
To ensure that there is no problem in moving from one place to another and they can feel comfortable, men of both the people of this community prefer wearing kurta pajamas.
Because they have to travel long distances on foot and that is why it is very much important for them to wear clothes that give them relaxation.
The attire of Kumaoni Women
The women in Uttarakhand who belong to the Kumaoni community wear a long skirt that is called Ghagri along with a choli and odni.
The bridal dress of the local women is lehenga, Ghaghra choli, and also ghagrapichora or Rangwali.
These Rangwali or the pichora are designed with silver and gold embroidery. These dresses are very popular in Uttarakhand. These dresses are considered holy dresses there and are also can be seen in many different colors.
The Kumaoni women wear a special type of dupatta, which is red has either a silver or a gold lace or gota work on that. Which they also call the pichhora or pinchhauda. The ghagrapichhora combo is slowly going out of trend.
Traditional Dresses of Tribal Communities in Uttarakhand
This state is famous for the variety of tribes staying here. Some of the very well-known Tribal communities of Uttarakhand are Bhotia, Raji, Jaunsari, etc.
They are very specific about their dresses. Men wear Digwa a woolen cap and women wear ghaghra, dhantu a scarf, woolen coat, Lohia a long coat, etc.
Latest Trends of Uttarakhand Dresses:
Pahadi t-shirt of Uttarakhand is very popular these days. People from all over India are crazy about these Pahadi t-shirts.
These Uttarakhand T-shirts attracting everyone, especially the youth, as these t-shirts are a perfect combo of Modern and Traditional fashion and are playing a big role in keeping Uttarakhand's tradition alive.
Nowadays there is a craze for these latest Pahadi t-shirts. You can easily find these trendy t-shirts at IAMDESI in amazing colors and designs. IAMDESI offers you Pahadi T-shirts "SIDHE PAHAD SE".
Share your opinions about Uttarakhand traditional dress in comments below
Here are the Handpicked article that you must read.
Top 10 Beardo Products on Amazon
Top 10 Unique Birthday Gift Ideas for Girlfriend
Best Hair Dryers For Men and Women
Budget Long Lasting Perfumes for Mens in India