Top 6 Free Video Editing Software with No Watermark for Windows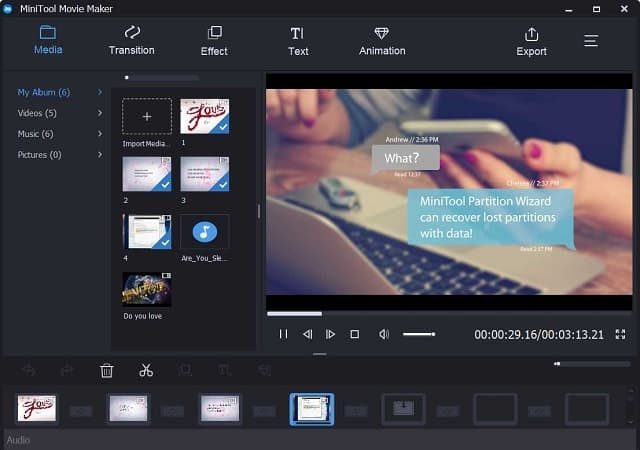 Recording a stunning video and sharing it to social media sites is a good way to share a part of our life and work. Meanwhile, you can make money on YouTube if you are running a successful YouTube channel.
In this post, we will recommend five free video editors with no watermark for Windows users to free edit the video files without leaving a watermark on the final videos.
1. MiniTool Movie Maker
MiniTool Movie Maker is 100% free video editing software without watermark, This powerful free video editor allows beginners and semi-professional users to quickly do basic video edits on Windows.
It supports many 4K UHD videos and common video formats including MP4, AVI, MOV, and etc.
Split large video into multiple parts, merge video clips into one, trim video to remove the start and end parts.
It offers different movie templates to help you create cool and Hollywood-style movies.
It provides a lot of cool video transition effects to make your slideshow or movie look more professional.
Add and customize the text, titles, captions and end credits to your
Apply different video fillers and change the color of the video easily.
Friendly, intuitive user interface.
How to Make Videos without Watermark?
MiniTool Movie Maker offers some movie templates to save time for users to create a cool video. Select a template that you like, then import your video and/or audio files, and you can create a nice video with no watermark.
Alternatively, you can create a video in your own style by following the steps below.
Step 1. Launch MiniTool Movie Maker software, and then click the Full-Feature Mode to enter the main user interface of this free tool.
Step 2. Click the Import Media Files button to import your video/music files.
Step 3. Drag these files and drop them to the timeline.
Step 4. Edit the video as you like. (Split or trim the video, combine some videos into one, add video transitions, apply effects, add text, and audio to the videos.)
Step 5. Save and export it to a folder on your Windows PC.
You can save export the edited video in different video formats, including .MP4, .MOV, .MKV, .AVI, .WMV, .WebM, and .TS.
You can also find many other features that are included in this all-round MiniTool MovieMaker, for example, reverse video, accelerate (speed up) video, make a slow-motion video, make musical slideshows, remove soundtrack and so on.
Some paid premium video editing programs require more processing power and have a steeper learning curve, and most free video editors may leave a watermark in the middle of the video. Therefore, if you are looking for an easy to learn, yet robust free video editor without watermark, MiniTool MovieMaker is a good choice.
2. VSDC Free Video Editor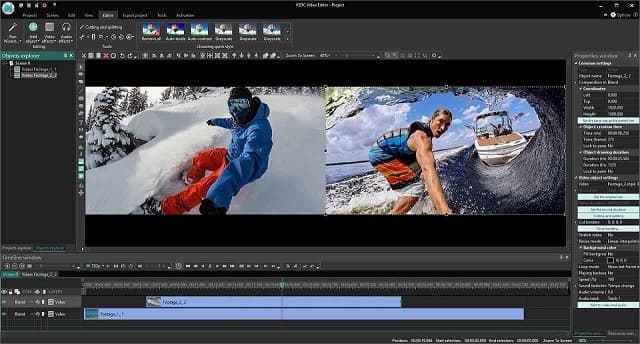 This non-linear free video editor – VSDC free video editor used to rank at the first place in the list of best free video editors available online.
For marketing professionals, they like using this software to create product demos to improve the knowledge base of their audience.
OS support: Windows 2000/ XP, Vista, Windows 7, 8, and 10.
It allows you to directly export videos to social media and YouTube.
It supports nearly all popular codecs, filters, and video formats.
It includes visual and audio effects like color correction, object transformation, filters, and others to help you complete movies.
With this free video editor without watermark, you can create free video tutorials, vlogs, home videos and post them to YouTube and other video sharing platforms. The good part is it offers detailed training and tutorials.
So, even if you have rudimentary skills, you can easily learn to use the software to make polished videos. People with higher video editing levels tend to choose the Pro version of VSDC, which costs $19.99.
3. OpenShot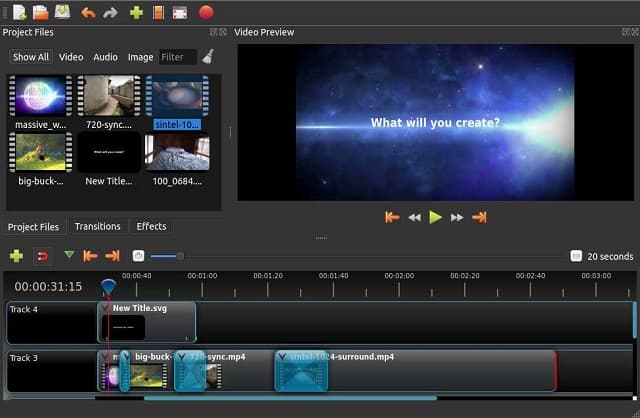 If you need "free video editing software no watermark download", a free and open-source video editing software called OpenShot is another choice.
It works on 64-bit Operating System ( Windows 7/8/10, Linux, OS X).
It has a self-explanatory user interface and you can redistribute or modify it.
Good support for the common video and audio formats.
It has an all-powerful animation framework and allows multiple animation possibilities.
The software can create multiple tracks and layers.
This free video editor includes some advanced features like 3D animation tools and chroma key functions despite that it doesn't have a Multicam editing feature.
One small issue we have found is that this program performance is not as stable when working on low-end PC /laptop, for example, we heard weird audio noise when previewing the media files.
If you are searching for a free video editing tool for novices and casual users to create videos with no watermark, you can give this program a try on high-end computers.
4. Shortcut
The shortcut is a good cross-platform, open-source free video editor without a watermark problem. It has been released for more than a decade.
For Windows, Linux, and Mac.
The software supports a wide range of video file formats in FFmpeg.
It fully allows input and preview monitoring.
4K video editing is supported.
This free video editor without watermark helps you create videos easily because it has a range of file formats along with fabulous video/audio effects and variable frame rates.
Also, Shortcut doesn't require you to import projects from the system thanks to its native timeline editing feature. You can lock waveforms and multi-tracks to produce stunning videos.
In a nutshell, Shortcut is suitable for those who are familiar with video editing.
The program has good support for wide formats and it can make the advanced effects understandable to people who seek an app with plenty of useful features. besides, it does not require high-end system equipment.
There are only a few drawbacks, for instance, the program looks lumpy in parts and official tutorials are a little anemic.
VideoPad Video Editor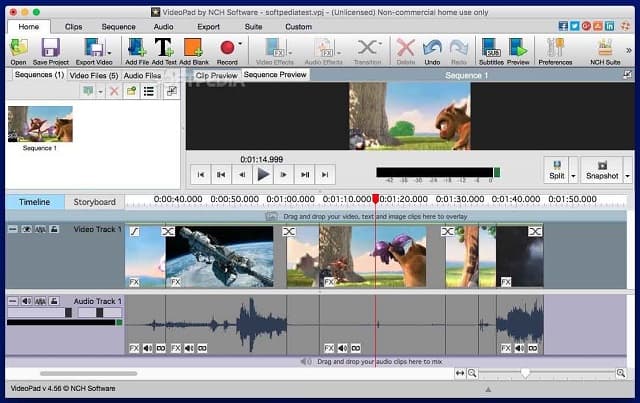 Last but not least, we'd like to share another free video editing software without watermark- VideoPad.
It is a video editing tool available for Mac and Windows, with a mobile version available for iOS and Android.
Video transitions and visual effects, and good support for plugin
You can use the software to reduce camera shakes.
Will support 3D video editing.
You can upload your edited videos on YouTube directly via a pull-down menu.
A small drawback of VideoPad is that it will take quite a long time to process videos in HD or full HD. Besides, it lacks beautiful fonts on text slides.
But generally speaking, this program can meet the basic video editing needs for those who want to edit their videos without diving deep into technicalities of video editing.
Lightworks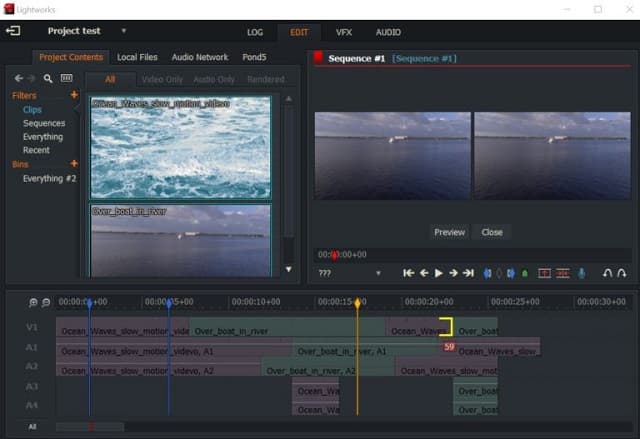 Lightworks is a very powerful non-linear video editing and processing software that has been used in many popular movies.
The free edition has limited features compared with the Pro edition, but it has no watermark.
Can be launched on Windows, Mac OS X, and Linux platform.
Has separate timelines for video resolution, format, and codec.
Support editing video at 24 fps, 25 fps, 29.97fps, 30 fps, 50 fps, or 60fps.
Advanced multi-lens synchronization, real-time filters
Professional-grade multi-shot editing of unlimited resources.
Includes the A / V synchronization indicator timeline and smart editing.
The video export in the free edition is limited to 720p — no full HD or 4K support here. The software includes professional quality tools to trim a video, or combine several short video clips into one, and achieve a variety of film-level processing effects for your movies and videos.
Although the software looks intimidating for novice video editors, you will get used to this program after experimenting.