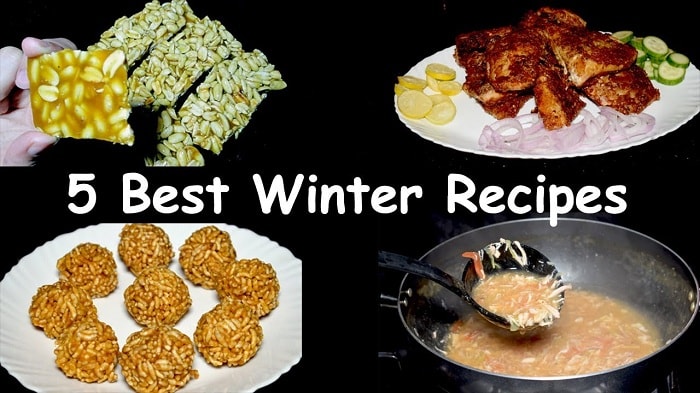 With the winters all set to bite, we begin to look for traditional warming foods like soup and stews to help keep the chills at bay. Copious amounts of coffee or ginger tea, stews, soups, and porridges seem to be the staples of the season.
So, if you're wondering what to fix yourself today while feeling miserable and cold, worry not. If you feel like ordering in then check out exciting deals and swiggy offers on the website.
Tell us your perfect winter warmer while we bring you a collated list of 5 best winter recipes to try and keep you warm and toasty at the same time.
Winter Recipe 1: One-Pot Chicken Taco Soup
Ingredients
2 tablespoons olive oil
1 medium yellow onion, diced
2 cloves garlic, minced
1 tablespoon chili powder
1 tablespoon ground cumin
2 teaspoons paprika
2 teaspoons dried oregano
1/2 teaspoon kosher salt
1/4 teaspoon freshly ground black pepper
4 cups or 32 ounces low-sodium chicken broth
1 (15-ounce) can black beans, cleaned
1 (15-ounce) can diced tomatoes
1 pound boneless, skinless chicken breasts
1 cup fresh or frozen corn kernels
Preparation:
Heat the oil in a large oven over medium heat until it starts simmering.
Add the onions and garlic, stirring occasionally, until tender for about 5 minutes.
Add the chili powder, paprika, oregano, cumin, salt, and pepper, and cook for about a minute.
Once the herbs release their aroma, add the broth, beans, and tomatoes with their juices, then stir to combine.
Pour the chicken and bring to a boil. Reduce the heat to maintain a simmer, keep at it until the chicken is cooked through. Give it approx.. 10 to 14 minutes, depending on the size of the chicken.
Transfer the chicken breasts pieces to a cutting board. Shred the meat using forks, then return the chicken to the pot and stir in the corn.
Serve topped with the scallions, cheese, and tortilla chips if desired.
Winter Recipe 2: Mustard chicken with winter vegetables
Ingredients
1 chicken, about 1.8kg/4lb in weight
2 onions
6 celery sticks
6 carrots
2 bay leaves
2 thyme sprigs
1 tsp black peppercorn
50g butter
100g smoked bacon lardons
3 small turnips, peeled and cut into wedges
1 tbsp plain flour
2 tbsp wholegrain mustard
3 rounded tbsp crème Fraiche (fresh cream)
good handful parsley, chopped
Preparation:
Put the chicken in a large stew pot. Halve 1 carrot, 1 onion, and 1 celery stick and add to the stew pot along with the herbs, peppercorns and some salt.
Add water till halfway up the chicken, bring to a boil, then cover properly and simmer for 1½ hrs.
Once slightly cooled, remove the chicken to a dish and then strain the stock into a bowl.
When the chicken has cooled enough, strip the meat from the bones and shred and tear into chunks using a fork or with your hands.
Cut and slice the celery and carrots into thick slices and chop the remaining onion.
Add butter and heat it in the same stew pot, add the lardons and onions then mildly fry for about 5 mins until they just start to brown.
Add the remaining veggies, then fry for another 2 mins. Stir in the flour, then cook for about 1 min.
Measure 900ml stock- adjust with water if you fall short, then gradually add to the pan, stirring.
Cover and simmer for about 20-25 mins until vegetables are tender.
Toss the chicken back into the pan with the mustard and fresh cream, then return to a simmer, stirring gently. Season and sprinkle with parsley.
Read more: Best Teas to Lose weight and Burn Excessive Fat
Winter Recipe 3: Chicken noodle soup
Ingredients
900ml of vegetable/ chicken stock or Miso soup mix
1 boneless, skinless chicken breast, about 175g/6oz
1 tsp chopped fresh root ginger
1 garlic clove, finely chopped
50g rice or wheat noodles
2 tbsp sweetcorn, canned or frozen
2-3 mushrooms, thinly sliced
2 spring onions, shredded
2 tsp soy sauce, with some extra for serving
Mint or basil leaves
Some shredded chili (optional), to serve
Preparation:
Pour the entire 900ml chicken/ vegetable stock into a pan and add 1 boneless, skinless chicken breast, 1 tsp chopped root ginger and 1 finely chopped garlic clove.
Bring to the boil, then reduce the heat, simmer for 20 mins with the lid partly covered and, until the chicken turns soft and tender.
Remove the chicken to a board and wait for it to cool slightly.
Then shred the chicken into bite-size pieces using a couple of forks.
Return the chicken to the pan with the stock and add 50g rice or wheat noodles, 2 tbsp sweetcorn, 1 shredded spring onion, 2-3 thinly sliced mushrooms, and 2 tsp soy sauce.
Simmer for 3-4 mins until the noodles are tender.
Ladle into two bowls and scatter over the remaining shredded spring onion, mint or basil leaves and shredded chili if using. Serve with extra soy sauce for sprinkling.
Read more: Street Food of Hyderabad- Must Eat for Foodies
Winter Recipe 4: Baked Tortellini With Three Sauces
Ingredients
1 pound ground pork sausage
1 onion, chopped
2 cups sliced mushrooms
1 red bell pepper, sliced
1 tbsp olive oil
2 tbsps flour
1 (26-ounce) jar pasta sauce
1/3 cup water
Unthawed 1-1/2 (19-ounce) packages of frozen cheese tortellini
1 (8-ounce) jar pesto sauce
1 (16-ounce) jar garlic Alfredo sauce
1/3 cup grated Parmesan cheese
Preparation
Preheat the oven to 350 F. Coat a 9″ x 13″ glass baking dish with non-stick cooking oil and set aside.
In a large skillet, fry the sausage with onion, mushrooms, and bell peppers in olive oil.
Break up the sausage with a fork, until the meat is browned and the vegetables are tender. Drain, if needed. Sprinkle flour over the meat mixture and cook for 2 minutes.
Add the pasta sauce and water to the skillet and bring to a boil.
Remove the skillet from the heat and stir in the frozen tortellini and the pesto sauce.
Separate and spread in the prepared pan. Pour and top with the Alfredo sauce and toss some cheese.
Bake for 40 to 50 minutes or until the casserole bubbles and cheese melts and starts to brown. Let stand for 10 minutes before serving.
Ingredients
1 (18 ounce) package polenta, cut into 0.5-inch cubes
1 cup chicken broth
1/2 cup grated cheese (parmesan)
1 tsp ground black pepper
1 pinch of paprika
Preparation
Stir polenta and the chicken broth together in a saucepan over medium heat.
Cook and stir until the polenta is evenly heated through, in about 5 minutes.
Remove pan from heat. Stir in the Parmesan cheese, paprika and black pepper with the polenta mixture.
For more winter recipes like them, you can visit https://freerangela.com