Bollywood also referred to as Hindi cinema, got its name partially from Bombay and partially from Hollywood. The term "Bollywood"  has its origins in the 1970s when India beat the United States as the world's largest film producer.
The credit for this goes to the lyricist, filmmaker and scholar Amit Khanna, and the journalist Bevinda Collaco. One can get any category of the movie including comedy, action, emotional, science fiction and many more.
We discovered the best ever comedy Bollywood movies and gathered this list–
1. Hera Pheri series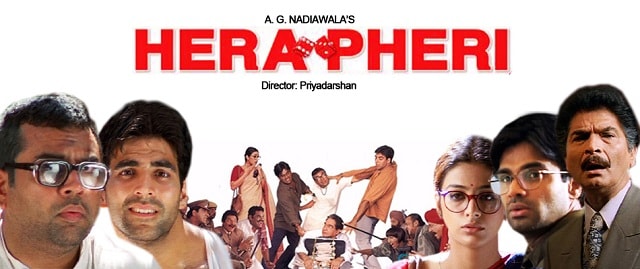 Hera Pheri, an Indian comedy series, released its two parts in 2000 and 2006 respectively and the third one is yet to come in 2019.
The first film was directed by Priyadarshan and produced by A.G. Nadiadwala, the second one was directed by Neeraj Vora while third will be directed by Indra Kumar and will be produced by Firoz Nadiadwala.
The story revolves around an bizarre trio, consisting of a comically hilarious having a kind heart garage owner named Baburao Ganpatrao Apte, acted by PARESH RAWAL, a cunning loafer named Raju, acted by AKSHAY KUMAR, and a man struggling for job named Shyam,acted by SUNIL SHETTY,who find themselves trapped in crazy and hilarious situation from Rawal himself.
The second parts continue the first, acted by the same three actors, filming the story of what happens if they become rich.
2. Andaz Apna Apna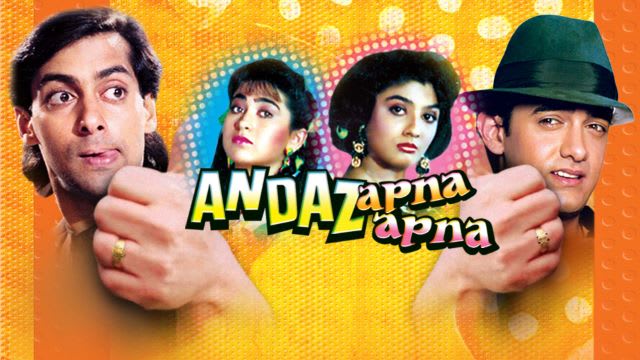 Andaz Apna Apna, released in 1994, was a hilarious comedy film directed by Rajkumar Santoshi.
The film starred Salman Khan as PREM, Raveena Tandon as RAVEENA BAJAJ, Aamir Khan as AMAR, Paresh Rawal as RAM GOPAL BAJAJ, Karishma Kapoor as Raveena's secretary, in fact, Raveena was the name of Karishma Kapoor which is shown in the movie as suspense.
Shakti Kapoor also acted in the movie as one of the most remembered roles in the history of Hindi cinemas as CRIME MASTER GOGO. Juhi Chawla and Govinda were guest appearances.
Also Read: Highest Grossing Bollywood Movies of all Time
3. Golmaal Series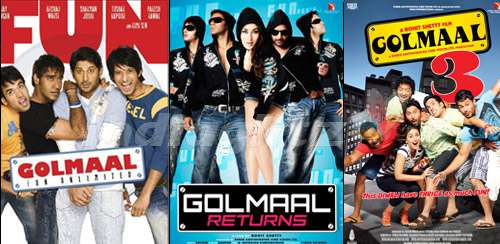 Golmaal, the full series directed by Rohit Shetty and produced by Dhillin Mehta, consisting of four films released in 2006,2008,2010 and 2017 respectively.
The first two parts starred Ajay Devgan, Arshad Warsi, Tusshar Kapoor, and Kareena Kapoor. The other two included two more actors, Kunal Khemu and Shreyas Talpade.
The plot of the story revolves around the four people in the first two parts in which Lucky(Tusshar Kapoor) is a dumb man, Gopal(Ajay Devgan) being his sister's husband, Madhav(Arshad Warsi), being the lover of Gopal's sister.
The other two parts included Mithun Chakraborty being the father of Madhav, Lucky and Laxman 1, RATNA PATHAK being the mother of Gopal and Laxman 2.
4. Welcome Series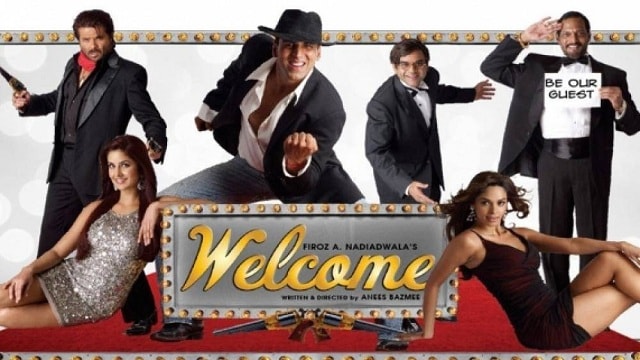 Welcome is an Indian action-comedy film series, produced by Firoz Nadiadwala and directed by Anees Bazmee.
The movie consists of two parts, the first part was released in 2007 and the second part was released in 2015. The third part is yet to come.
Both the series starred Nana Patekar as UDAY, Anil Kapoor as MAJNU, Paresh Rawal as Dr. Ghunghroo, Akshay kumar as Rajiv, Katrina Kaif as Sanjana, John Abraham as Ajju a.k.a. Ajay, Shruti Hassan as Ranjana, some being in the first part while some in the second one.
Both the films had the budget of 130 crores and both of them earned 285 crores in the box office. It is believed that the third part will be more effective on the audience and the box office as well.
Also Read: Why Movies Are Released On Friday's?
5. Munna Bhai Series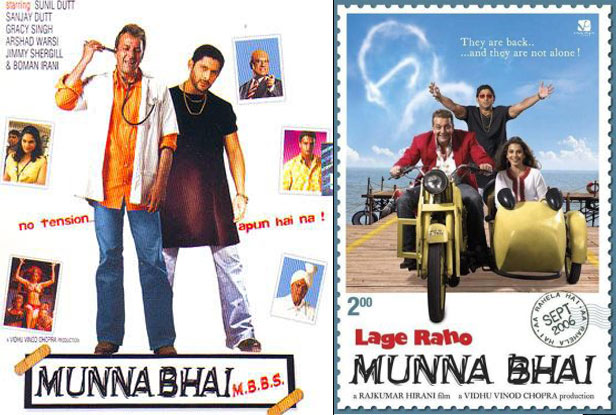 Munna Bhai is an Indian film series consisting of two parts, the first one released in 2003 and the second one in 2006.
It is a perfect comedy film which taught us the value of humbleness in one's life.
The film mainly featured Sanjay Dutt as Munna Bhai, a loafer and Arshad Warsi as Circuit being a close friend of Munna working under him.
Both the films had a budget of ₹220 million (US$3.1 million) earned ₹1.50 billion (US$21 million) in the box office.
6. Chup Chup Ke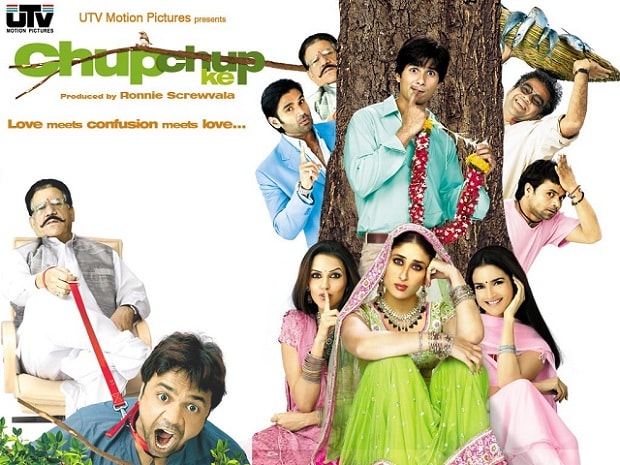 Chup Chup ke is one of the best Bollywood comedy movies released in 2006.  It is the remake of a Bengali film, Chhadmabeshi. The film was directed by Priyadarshan.
The film starred Shahid Kapoor as Jeetu, acted as a dumb and deaf in 90% of the movie, Kareena Kapoor as Shruti, Paresh Rawal as Gundya, Rajpal Yadav as Bandya, Sunil Shetty and lot more.
The film had a budget of 120 million earned 255.80 million in the box office in Indian currency.
Also Read: These Singers Raising Hotness Bars in Punjabi Music Industry
7. De Dana Dan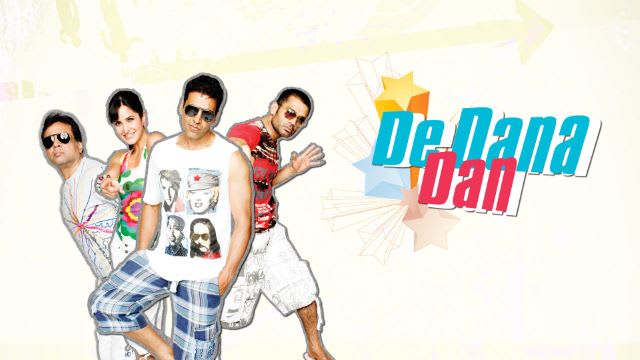 De Dana Dan is an Indian comedy film directed by Priyadarshan and produced by Ganesh Jain. The film released in 2009.
The film starred Akshay Kumar as Nitin Bankar, Sunil Shetty as Ram Mishra, Sameera Reddy as Manpreet Oberoi and Katrina Kaif as Anjali Kakkad.
The plot of the story is that Nitin's father took a loan from Kuljeet Kaur to educate Nitin but he has failed to pay back the loan before his death so Nitin was stuck as a servant and driver of Kuljeet Kaur to pay his father's debts.
Nitin was sick and tired with Kuljeet's dog which was named as Moolchand Ji, who always creates trouble for Nitin but the beautiful part for him was that he Anjali and Nitin both used to love each other and so he decides to run away with her. Rest is the part of some twists and many more.
The film earned 82 crores in the box office.
Read more about Bollywood Movies