Why You Should Choose to Spend New Year's Eve on a Harbour Cruise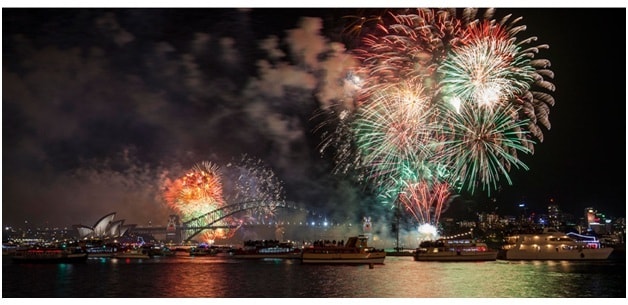 New Year's Eve in Sydney is a massive deal no matter who you ask. This city is famous for its stunning fireworks show and an amazing atmosphere on the last night of the year, so much so that it becomes really hard to find a New Year's activity that you actually enjoy.
The crowds, public transport, crazy prices, and obstructed views are bound to grind you down after a couple of years, and in order to break up the frustration, it can be necessary to plan yourself a more creative and interesting New Year's Eve. For the ultimate evening this year, you should absolutely look into setting sail out on the harbor.
If the concept in itself is not enough to push you to jump the gun and book those tickets, here's exactly why floating on Sydney Harbour this December is your perfect plan:
The view
It's not hard to imagine why this point is so compelling. The view of the fireworks shows, the Opera House and the Harbour Bridge are truly breathtaking. You'll be bobbing out on the water with unobstructed, crystal clear vision of the entire scene, from start to finish.
No more getting to your picnic spot 8 hours early only for a family to set up camp right in front of you! Be sure to bring your camera along, you'll finally be able to snap the perfect fireworks footage and you'll nab some great candids of you and your New Year's crew relaxing amongst the amazing scenery.
The atmosphere
Your cruise will have a gorgeous, chilled and jolly atmosphere that you can really enjoy and settle into. Everyone aboard is there for a lovely evening of fun, so you'll most likely meet some great new faces for you to enjoy the night with.
The city on New Year's is full of rowdiness, you'll be able to sit back and enjoy the evening instead of avoiding the craziness of the city streets.
It's a package payment
New Year's Eve out at a venue cuts a hole in your pockets and just keeps talking! You have to pay to get in, pay for drinks and eventually fork out again if you want to have any dinner on your night out.
Picnics and hosting at home also mean that you have to stock your fridge full of enough booze and snacks for all of your guests, which is pricey and a bit of a hassle.
Say goodbye to all the work involved in New Year's and book yourself on a harbor cruise! You'll be making an upfront payment that includes your food and drinks for the evening, so you'll know exactly what you're spending.
No more transport worries
Getting where you need to be on New Year's is, to put it mildly, a pain. Hopping in an uber, taxi, catching a bus or a ferry is difficult, stressful and usually expensive.
A cruise will pick the whole group at a convenient central spot and then drop you off sometime after the clock strikes midnight, so you'll be able to get home without all the bother.
It's a night you'll never forget
New Year's Eve has a bit of a reputation for letting people down, it's often far more lackluster than you planned for.
Well, that's a thing of the past when you spend it on a New Year's Eve Sydney cruise. Your special night will be one that you remember forever, and the amazing pics you get will remind you of the fun over and over again!
Book now for the night of a lifetime!